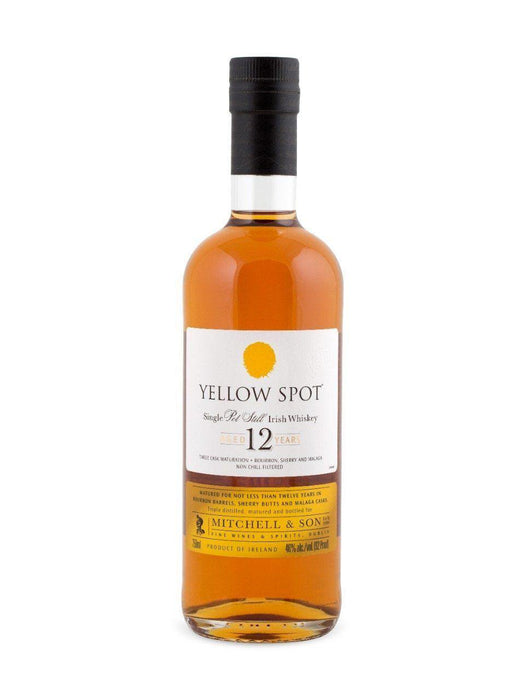 Yellow Spot 12 Year Old Irish Whiskey
Original price
$0.00
-
Original price
$0.00
Experience the golden standard of Irish whiskey with Yellow Spot, a refined and complex single pot still whiskey aged for 12 years.
Indulge in the rich and complex flavors of Yellow Spot 12-Year-Old Irish Whiskey, a meticulously crafted single pot still whiskey that's been aged to perfection. With its distinct golden hue and smooth texture, this premium spirit boasts unique tasting notes such as fresh cut grass, honeycomb sweetness, toasted oak and a hint of sherry influence from being matured in three types of casks. Each sip offers an elegant balance between richness and spiciness with lingering warm spices on the finish. Perfect for those who appreciate the finer things in life, let Yellow Spot transport you to the lush green hills of Ireland with every sip
Savor the rich and complex flavors of this premium Irish whiskey, aged for 12 years in oak casks to perfection
Enjoy a smooth and mellow drinking experience with every sip of Yellow Spot's exceptional blend of sweet and spicy notes
Indulge in a luxurious drinking experience with Yellow Spot 12-Year-Old Irish Whiskey, perfect for special occasions or as a gift for connoisseurs
Yellow Spot 12 Year Old Irish Whiskey - Rather than being simply a finished whiskey, Yellow Spot is special in that it contains single pot still whiskey that has been matured for a full 12 year period in three oak cask types: American bourbon barrels, Spanish sherry butts and uniquely,, Spanish Malaga casks. Bottled at 46% ABV, the influence of the Malaga cask brings an exotic sweet noteto the whiskey making it a truly delightful taste experience.