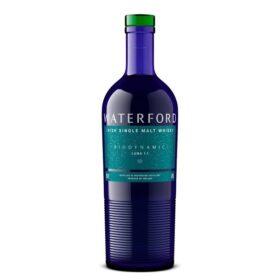 Waterford Biodynamic Luna 1.1 50%
Save

$22.00
Save

$22.00
Original price
$79.00
-
Original price
$79.00
Waterford Biodynamic Luna 1.1 50%
Eccentric to some, regenerative to others, biodynamic agriculture goes beyond the ordinary ecological mindset. Drawing upon ancient lore of lunar cycles & exotic preparations, it seeks to charge soils with vitality & barley with vibrancy. Practised by the most visionary & curious, we too are intrigued about the most natural flavours we can capture in spirit. For this landmark whisky, distilled from Ireland's only biodynamic barley, we invoke the goddess of the moon for our most esoteric & evocative bottling.
Appearance: Apricot gold with oils that are in no rush!
Nose: Plums, apricot jam, fresh fruit salad, cold coffee, lemon drizzle cake, milk chocolate with almonds, fresh soil, bread proofing, brown sugar, herbal tea, hay on the ground after a shower of rain.
Taste: Spice on every level, front, middle, back and in between, white pepper, cloves, green peppers, jalapenos, dark chocolate, liquorice, malted biscuits and peppermint tea, grapefruit.
Finish: An everlasting heat and spice that's dry but is mouth-watering, with some mint tea. It has more of a linger and less of a finish.