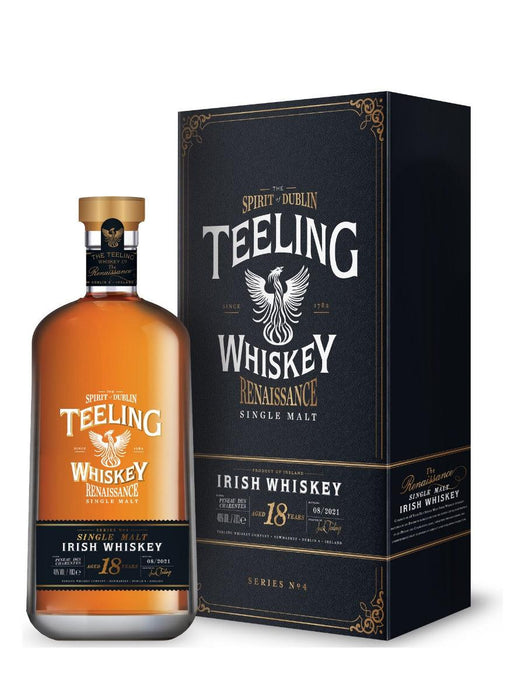 Teeling Renaissance Series 4
Sold out
Original price
$173.00
-
Original price
$173.00
Experience the rebirth of Teelings mastery with Renaissance Series 4, aged to perfection in ex-Pineau des Charentes casks.
Introducing Teeling Renaissance Series 4, the ultimate expression of Irish whiskey. Aged to perfection in ex-Pineau des Charentes casks, this rare and exclusive spirit offers a sensory journey through time and tradition. From the smoothness of its velvety texture to the intricate layers of flavor that burst with every sip, this unique blend balances sweetness and spice like no other. Crafted by Ireland's finest distillers at the historic Teeling Distillery, Renaissance Series 4 is an ode to exquisite taste and uncompromising quality - a true masterpiece for collectors and connoisseurs alike
This limited edition whiskey from the renowned Teeling distillery is a musttry for any connoisseur
The rich and complex flavors of this premium Irish whiskey are sure to impress even the most discerning palate
With only a limited number of bottles available, owning a bottle of Teeling Renaissance Series 4 is an investment in both taste and rarity
Following the success and acclaim of the Renaissance Series, Teeling has released the much anticipated Renaissance Series 4 at last! The Renaissance Series offers the very best Teeling has to offer and this release is no exception! For this expression, Teeling has matured in ex-bourbon barrels before receiving an extra maturation in ex-Pineau des Charentes casks which imparts flavours of mouth-watering pressed grapes, candied fruit, and pineapple character to the whiskey. Incredible stuff all around!