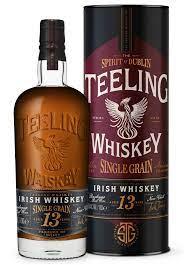 Teeling 13 Year Old Single Grain
Sold out
Original price
$76.00
-
Original price
$76.00
Indulge in the smoothness of Irelands finest with Teeling 13 Year Old Single Grain, aged to perfection in bourbon casks for a truly timeless taste.
Teeling 13-Year-Old Single Grain is a refined and unique Irish Whiskey that appeals to the discerning whiskey enthusiast. This exquisite single grain whiskey has been matured for over a decade in carefully selected Bourbon casks, adding layers of complexity and depth to its taste. The result is an incredibly smooth, mellow palate with notes of vanilla, honeyed oak, and delicate citrus flavors. The combination of sweet nuances from the corn distillation process with hints of malted barley give this whiskey unparalleled balance and texture. Overall, Teeling 13-Year-Old Single Grain is an excellent addition to any collection or perfect sipping companion after dinner
Savour the smooth and sweet taste of Irish Whiskey with Teeling 13-Year-Old Single Grain
Crafted from a rare blend of Single Grain, this whiskey is aged to perfection for 13 years
Enjoy the rich aroma and longlasting finish that make Teeling 13-Year-Old Single Grain a connoisseur's choice
This whiskey epitomises our focus on driving the evolution of Irish Whiskey and being a pioneer in celebrating Irish Single Grain.
Crafted using an unconventional mash bill of 95% corn and 5% malted barley that has been triple distilled and matured initially in ex-bourbon casks before being given extra maturation for a further four years in ex-Bordeaux Red Wine Casks, this whiskey is bottled at 50% with no chill filtration to capture all its natural flavour.
NOSE: Rose water, ripe cherries, cinnamon and red fruits
TASTE: Summer fruits, berry jam, vanilla cream, soft orchard fruits with honey notes
FINISH: Spice, dry tannins, toasted oak and lingering warm wood notes