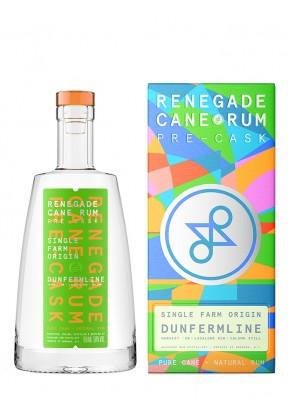 Renegade Pre Cask Dunfermline Pot 50% Rum
Save

$13.00
Save

$13.00
Original price
$53.00
-
Original price
$53.00
Experience the rebellious spirit of Renegade Pre Cask Dunfermline and Lacalome Red Rums, distilled to perfection in traditional pot stills for an unrivaled 50% kick.
Renegade Pre Cask Dunfermline Pot 50% Rum is not just any ordinary rum- it's a rarity amongst rums. This exclusive blend is made from the finest quality ingredients, including the Renegade Pre Cask Rum and Dunfermline Pot Rum. These two distinct rums have been expertly blended to create a rich and complex taste that will excite your senses and transport you to paradise. The Lacalome Red Rum adds an extra layer of depth, creating notes of sweet fruit with hints of spice that linger on your palate long after each sip. So whether you're an avid rum enthusiast or looking for something special for a celebratory occasion, Renegade Pre Cask Dunfermline Pot 50% Rum promises to deliver unparalleled flavor that will leave you craving more
Renegade Pre Cask Dunfermline Pot 50% Rum is a premium quality spirit that offers a rich and complex flavor profile, with notes of vanilla, caramel, and oak
Crafted using traditional methods in small batches, this rum is aged to perfection in precask barrels for an unparalleled taste experience
With its smooth finish and balanced sweetness, Renegade Pre Cask Dunfermline Pot 50% Rum is the perfect choice for sipping neat or as the base for your favorite cocktail
Made from only the finest ingredients including Lacalome Red Rum, this exceptional rum delivers on both taste and value
Making it a musttry for any discerning spirits enthusiast
Renegade Pre Cask Dunfermline Pot 50% Rum
Ascending into the mountains of St. Andrew, on the island's north-eastern coast, nestles Dunfermline – once a venerable distillery lost to Hurricane Ivan, where for centuries its clay loam has been conducive to cane cultivation. For this rum we harvested the sucrose-rich variety we call Lacalome Red from Skean's Field, which stands on the terroir known as Mango Lane.