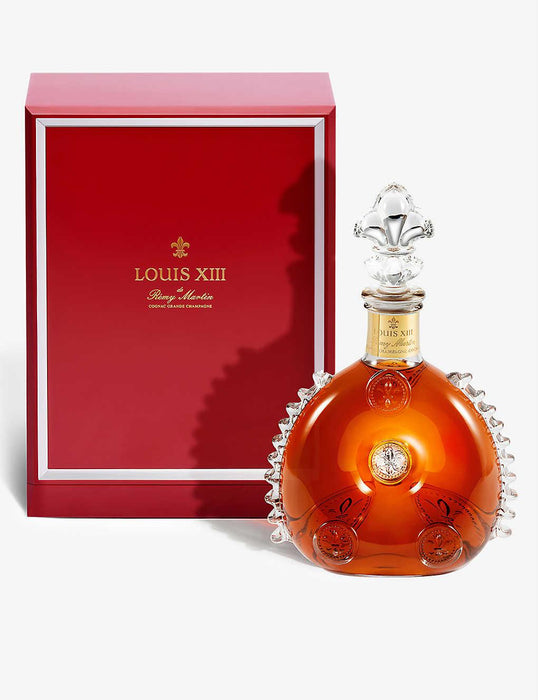 Remy Martin Louis XIII
Save

$170.00
Save

$170.00
Original price
$2,602.00
-
Original price
$2,602.00
LOUIS XIII Cognac is unique in a multitude of ways — to start, Rémy Martin (the producers of LOUIS XIII) harvests grapes from the Grande Champagne cru, then distills "on lees," referring to the solids left over from pressing the grapes. This lends a more concentrated character to the final product, and Rémy Martin is the only producer to do this.
Then, the resulting
eau de vie
(French for "water of life") is aged in French Limousin oak casks that have been cut, aged for two years, charred and formed to the exact specifications necessary for crafting LOUIS XIII. As the liquid ages, it is transferred to older and older barrels, moving constantly from one cellar to the next in order to create just the right climate for aging.
Finally, to create the traditional LOUIS XIII Cognac, over 1,200 different types of Grand Champagne eaux de vie are blended together, with the youngest eau de vie being 40 years old and the oldest being over 100 years old. Given this astounding aging process, each bottle of LOUIS XIII has been stewarded by at least three generations of cellar masters from Rémy Martin.
Named after King Louis XIII of France, who was perceived as the "cognac protector," LOUIS XIII Cognac has a striking floral nose with notes of candied fruits and light spices. The nose leads to bolder touches of rose, jasmine, passion fruit and nutmeg on the palate, transitioning into a finish accented by figs, prunes, sandalwood and honey.