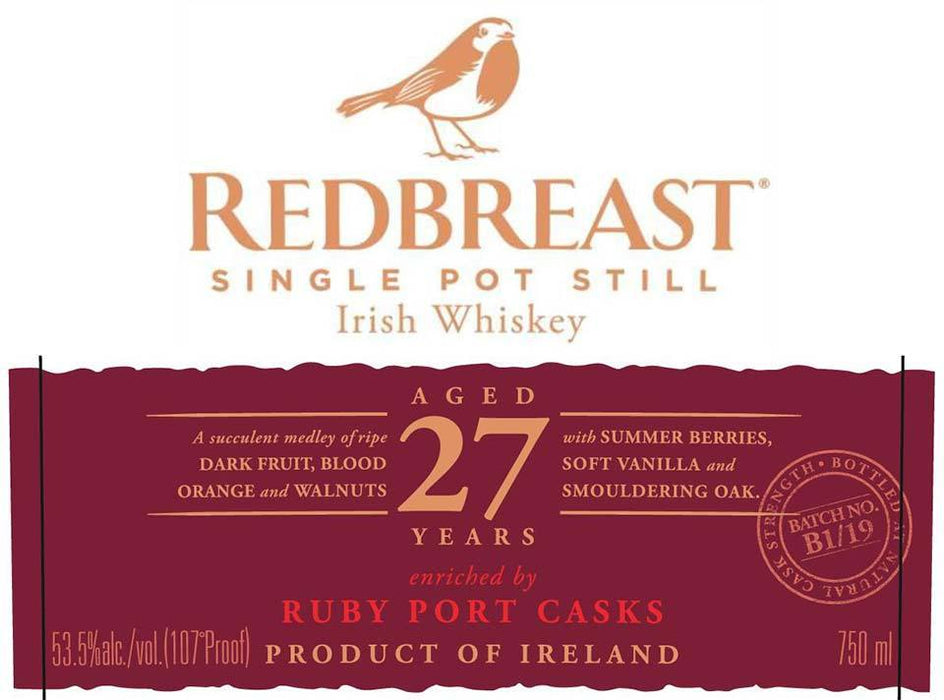 Redbreast 27YO Irish Whiskey 5cl Sample
Sold out
Original price
$40.00
-
Original price
$40.00
Indulge in the rich flavors of Ireland with Redbreast 27, crafted from the finest bourbon and sherry casks for a truly exceptional Irish whiskey experience.
Introducing the Redbreast 27-Year-Old Single Pot Still Irish Whiskey, a rare gem that is not your typical whiskey. This 5cl sample of premium quality Irish whiskey was carefully aged for an impressive 27 years, giving it a smooth and complex flavor with hints of vanilla and fruit notes. The secret behind its distinctive taste lies in the selection of exquisite bourbon and sherry casks used during the maturation process, which adds to its signature sweetness and richness. Savor every sip as you discover why this limited edition Redbreast 27 is considered one of Ireland's most exceptional whiskeys yet
Savor the smooth taste of this premium Irish whiskey, aged for over two decades to achieve its signature depth and character
Enjoy a sample size bottle that allows you to discover the exceptional quality of Redbreast 27 without committing to a fullsized purchase
Impress your guests or gift it to someone special
Redbreast 27 is an elegant and sophisticated choice for any occasion
This is a 5cl sample decanted into generic bottle from original Redbreast 27 YO 
A 27-year-old single malt Irish whiskey from Red Breast, matured in a combination of bourbon and sherry casks, as well as a ruby port cask. Aromas of exotic fruits, red berries, fresh herbs and vanilla fill the nose, alongside toffee and toasted oak. The palate offers notes of ripe plums, summer berries, chilli oil, vanilla and cinnamon.