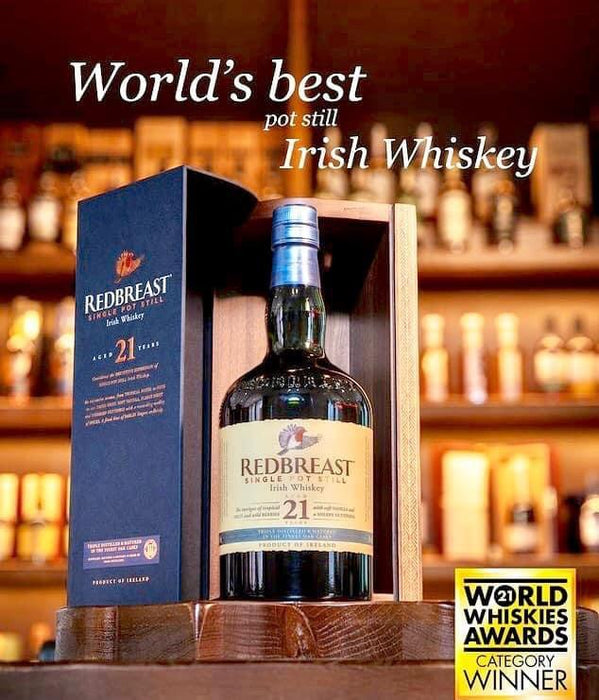 Redbreast 21 Year Old
Sold out
Original price
$222.00
-
Original price
$222.00
Savor the rich and distinct flavor of Redbreast 21, a testament to its impeccable Single Pot Still Irish Whiskey craftsmanship perfected through a 21-year ageing process.
Introducing Redbreast 21-Year-Old, the masterpiece of Single Pot Still Irish Whiskey. The elusive 21-year ageing process has created a luxurious and complex flavor profile that is unmatched in the world of whiskey. From its vibrant amber hue to its velvety smooth finish, every sip reveals glimpses of rich spices, succulent fruits and subtle sweetness that will leave even the most discerning whiskey connoisseurs in awe. If you're looking for an exceptional drink that exudes elegance and sophistication, then look no further than Redbreast 21-Year-Old Single Pot Still Irish Whiskey - it's truly one-of-a-kind!
Redbreast 21-Year-Old's rich and complex flavor profile is a result of its single pot still Irish whiskey distillation process
The 21 year ageing process in carefully selected oak casks enhances the smoothness and depth of this premium whiskey
With its distinct aroma, Redbreast 21-Year-Old offers a luxurious drinking experience that appeals to connoisseurs and casual drinkers alike
Savor every sip knowing that you're enjoying one of the world's most highly regarded whiskies, crowned "World Whisky of the Year" by Jim Murray's Whisky Bible in 2018
Produced in very limited quantities, Redbreast 21 represents the ultimate expression of Redbreast Single Pot Still Irish Whiskey. The 21 year ageing process introduces new levels of depth and an abundantly aromatic and fruitful flavour.