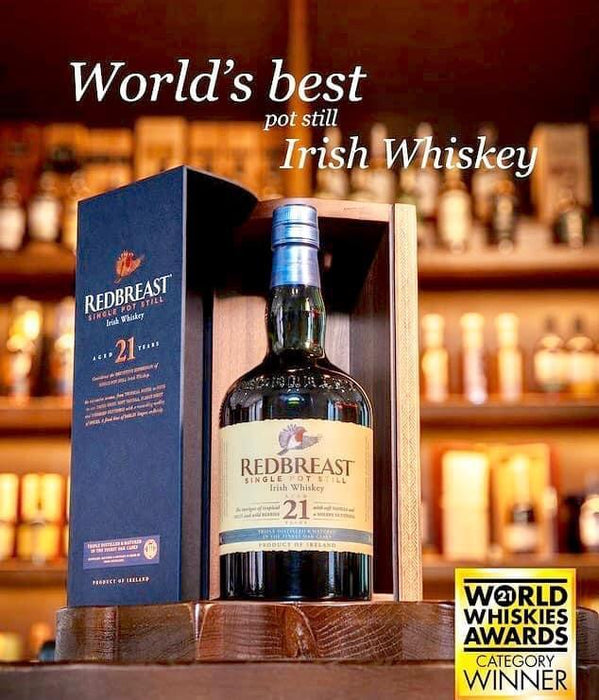 Redbreast 21 Year Old 5cl Sample Dram
Sold out
Original price
$16.00
-
Original price
$16.00
Experience the rich complexity of Redbreast 21, aged to perfection over two decades, and savor the unparalleled taste of this exceptional single pot still Irish whiskey - now available in a convenient 5cl sample dram.
Indulge in the delectable and refined taste of Redbreast 21-Year-Old, a premium single pot still Irish Whiskey that has been aged for over two decades. The intricate 21-year ageing process produces a rich and complex flavor profile, with notes of ripe fruit, sherry nuttiness, and exotic spices. This whiskey is distilled from malted and unmalted barley before being matured in oak casks to achieve its distinctive smoothness. A sample dram of this exquisite spirit is sure to leave you craving more as it takes your senses on an unforgettable journey through the finest tastes that Ireland has to offer
Experience the premium taste of Redbreast Single Pot Still Irish Whiskey with a 5cl sample dram
Savor the rich and complex flavors of Redbreast 21, aged for 21 years to perfection
Treat yourself or impress your guests with this luxurious addition to any whiskey collection
This is a 5cl sample dram filled in-house from an original bottle.
Produced in very limited quantities, Redbreast 21 represents the ultimate expression of Redbreast Single Pot Still Irish Whiskey. The 21 year ageing process introduces new levels of depth and an abundantly aromatic and fruitful flavour.