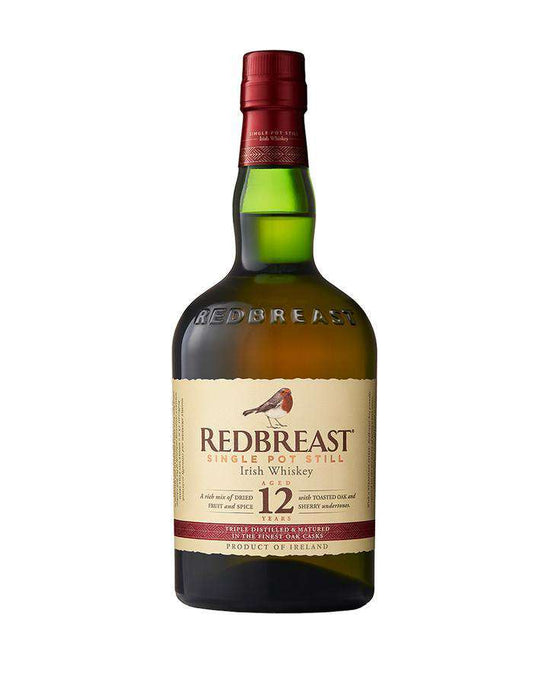 Redbreast 12 Year
Save

$9.00
Save

$9.00
Original price
$58.00
-
Original price
$58.00
Indulge in the rich and refined complexity of Redbreast 12 Year Pot Still whiskey, matured to perfection in sherry seasoned oak.
Redbreast 12 Year Pot Still whiskey is a premium spirit that whispers tales of tradition with every sip. The honey and spice notes in this golden gem are perfectly balanced, making it irresistibly smooth on the palate. The magic behind Redbreast's unique taste lies in its secret blend of malted and unmalted barley, triple distillation process, and ageing in sherry seasoned oak casks for over a decade. With each uncorking, you're stepping into an era where quality was paramount; a time-honoured process that never gets old. Indulge yourself to one of the finest tasting experiences out there with Redbreast 12 Year!
Redbreast 12 Year is a premium Pot Still whiskey with rich and complex flavors, perfect for sipping or mixing in cocktails
With its smooth finish and balanced taste, Redbreast 12 Year is an ideal choice for both novice and experienced whiskey drinkers alike
Whether enjoyed neat, on the rocks, or mixed into your favorite cocktail recipe, Redbreast 12 Year offers a luxurious drinking experience that will leave you wanting more
Redbreast 12 Year
Made from a mash of malted and unmalted barley and then triple distilled in copper pot stills, Redbreast 12 boasts the flavour complexity and distinctive qualities of Pot Still whiskey. Matured in a combination of Bourbon seasoned American Oak barrels and Oloroso Sherry seasoned Spanish oak butts, the distinctive Redbreast sherry style is a joy to behold in each and every bottle.