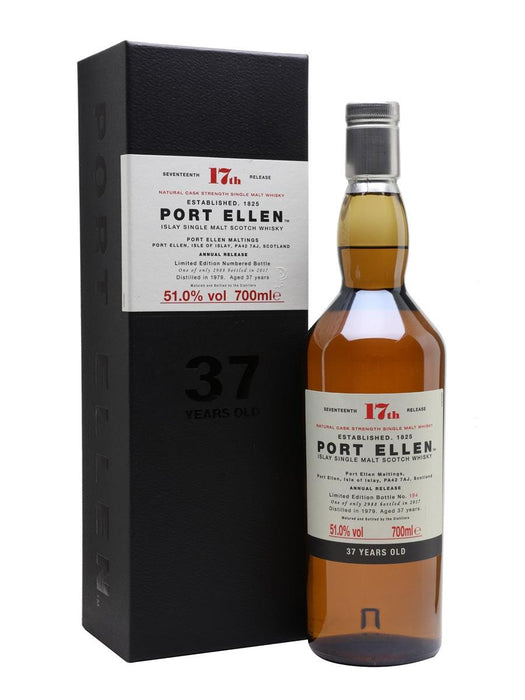 Port Ellen 1979 37 Year Old 17th Release
Sold out
Original price
$3,481.00
-
Original price
$3,481.00
The 17th release of Port Ellen is another excellent dram, this time offering light, sweet fruit notes gradually evolving into earthier, oakier, smokier characteristics that leave you in no doubt of its elegance and complexity. Due to the limited number of casks left there's always the danger that each release of Port Ellen will be the last.
This 37-year-old whisky was distilled in 1979 and is created from a vatting of eight American oak refill casks.
Bottle Number 1318 of 2988
NOSE

Seashells, wax and sweet apples. Foam strawberries follow, along with incense and charcoal-grilled pears. Surprisingly fresh to start, with marzipan and earth notes slowly building. Water brings back zestiness, with lemon butting up against coal dust.

PALATE

Soft smoke to start, with dry peat, coal and leather. Sugary notes appear, with stewed apples covered in sweet custard. As that starts to fade, it's replaced by damp leaves, surrounded by more smoke and a handful of coal dust. A drop of water amplifies the smoke and adds further damp leaves to the fire.

FINISH

More leaves, but spread across damp tarmac. Sweet apple appears and slowly fades to leave cocoa and a touch of minerality.

COMMENT

A refined and elegant Port Ellen, with the classic seaside/leather/citrus notes and enough sweetness through the middle to balance the flavours.

Tasting notes from the producer

APPEARANCE

Deep 18 carat gold.

NOSE

Light yet complex. Peat-reek, damp bark, charred wax, flowers and tropical fruits pursued by familiar chamois leather and sherbet lemon. The fragrance evolves as a new-mown spring meadow, all wild flowers and grass, fading to a darker, savoury earthiness with dry peat and brushwood while the leather picks up spice, all of it wreathed in gentle scented wood smoke. A drop of water makes the aromas really smooth and waxy, raising scented candles and a trace of cinnamon, with noticeable smoke, warm spices, honey, tropical and stone fruits.

BODY

Rich, medium to heavy.

PALATE

Fabulously smooth; oily-textured, sweet and fruity. Lemony citrus, then that savoury earthiness, with fragrant damp grass, ripe fruit (spiced peaches) and spicy smoked meats. As with the nose, the earthy notes build, mixing in dark chocolate, scented wood smoke and burnt orange, before a sweeter and lighter note of freshly sliced apple, spiced and sweetened, livens things up. A drop of water lowers the spicy heat, leaving orchard fruit, slightly charred, and softly sweeter, with a little sweet mint.

FINISH

Smooth, warming and spicy, with aromatic smoke. Digestive biscuits, crisp green grapes and lingering notes of earth, damp leaf and charred oak. Water enhances all this, and there's a fine smoky-waxy after-taste.