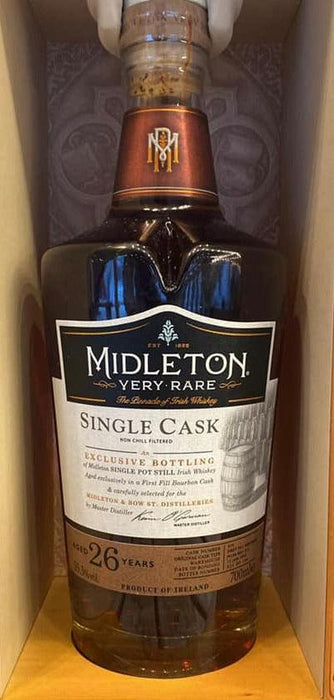 Midleton Very Rare 26 Year Old Single Cask
Original price
$1,302.00
-
Original price
$1,302.00
Experience the unrivaled elegance of Midleton Very Rares 26 Year Old Single Cask - a testament to time, artistry, and impeccable taste.
Introducing the Midleton Very Rare 26-Year-Old Single Cask, a true masterpiece crafted by the most skilled distillers. This exquisite Irish whiskey is meticulously aged for an exceptional period of 26 years, allowing its rich and complex flavors to rest undisturbed in a single cask. Every sip indulges your senses in a symphony of notes that range from sweet vanilla and honey to warm spices and nutty undertones. Savor it neat or with a splash of water; either way, this rare gem will leave you captivated until the last drop. A must-have for any serious whiskey collector or connoisseur who appreciates excellence at its finest!
Experience the rarest and finest taste of Midleton Very Rare with this 26-Year-Old Single Cask edition
The limited availability of this exclusive release makes it a musthave addition to any collector's collection
Savor the smoothness and complexity of this premium Irish whiskey, which has been aged to perfection over a quartercentury in oak casks
Midleton Very Rare 26 Year Old Single Cask
Specially selected by Master Distiller Kevin O Gorman, this Single Pot Still Irish Whiskey was distilled in 1993 where it has laid resting until Kevin O Gorman saw fit to bottle this cask exclusively for the Midleton and Bow Street Distilleries.
Each of the 144 bottles are individually numbered.
Nose: Rich charred oak intensity, layered with sweet toffee and vanilla while notes of nutmeg and cinnamon mingle with mild zesty fruit undertones providing balance to the traditional pot still spices.
Taste: Light peppery tones intertwine with sweet mandarin orange, vanilla and cinnamon layered over rich toasted wood notes thanks to the many years spent in American oak.
Finish: Lingering and full-bodied finish with the delicate fruits softly fading while the pot still spices and oak continue to the very end.
Original date of bonding: 12.01.1993
Cask type:  1st Fill Bourbon
Cask number: 974
Volume: 70cl
ABV: 55.3%