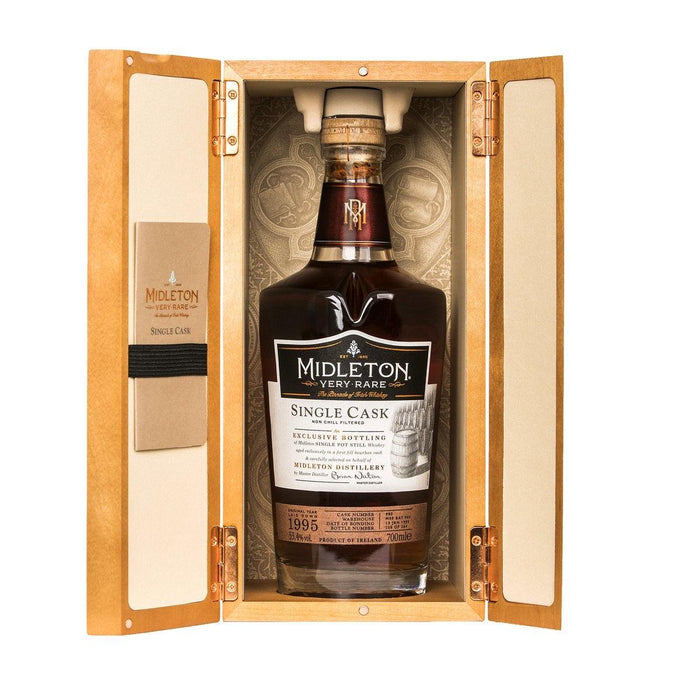 Midleton Very Rare 25 Year Old Single Cask - 1995
Original price
$1,283.00
-
Original price
$1,283.00
Experience the pinnacle of Irish whiskey perfection with Midleton Very Rare 25 Year Old Single Cask - a rare and exquisite single pot still thats been aged to perfection for over two decades.
Midleton Very Rare 25-Year-Old Single Cask - 1995 is a true masterpiece, crafted with precision and passion that only the very best can deliver. This Single Pot Still Irish Whiskey has been aged for an incredible 25 years, slowly maturing in oak casks to reach its full potential. The result is an exquisite balance of flavors and aromas that will take your senses on a journey through time. With every sip, you'll experience notes of rich vanilla, toasted oak, and caramelized sugar - all wrapped up in a silky smooth texture that lingers on the palate long after you've savored it. If you're looking for a truly exceptional whiskey worthy of any special occasion or celebration, Midleton Very Rare 25-Year-Old Single Cask - 1995 is the perfect choice
Indulge in the rich and complex taste of Midleton Very Rare 25-Year-Old, a premium single pot still Irish whiskey
Impress your guests with an exquisite bottle from one of Ireland's most renowned distilleries, perfect for special occasions or gifting
Experience the ultimate luxury in whiskey drinking by adding Midleton Very Rare 25-Year-Old Single Cask 1995 to your collection today
Midleton Very Rare 25 Year Old Single Cask 
Specially selected by former Master Distiller Brian Nation, this Single Pot Still Irish Whiskey was distilled in 1995 where it has laid resting until Brian Nation saw fit to bottle this cask exclusively for the Midleton and Bow Street Distilleries.
Each of the 264 bottles are individually numbered.
Nose: Rich charred oak intensity, layered with sweet toffee and vanilla while notes of nutmeg and cinnamon mingle with mild zesty fruit undertones providing balance to the traditional pot still spices.
Taste: Light peppery tones intertwine with sweet mandarin orange, vanilla and cinnamon layered over rich toasted wood notes thanks to the many years spent in American oak.
Finish: Lingering and full-bodied finish with the delicate fruits softly fading while the pot still spices and oak continue to the very end.
Original date of bonding: 13.01.1995
Cask type:  1st Fill Bourbon
Cask number: 980
Volume: 70cl
ABV: 53.4%