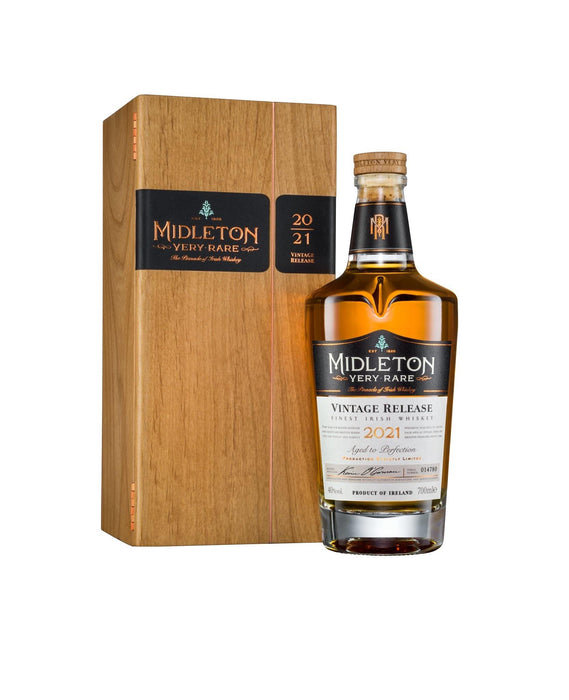 Midleton Very Rare 2021
Original price
$606.00
-
Original price
$606.00
Indulge in the vintage perfection crafted by the Master Distiller, with Midleton Very Rare 2021.
Midleton Very Rare 2021 is a vintage whiskey that showcases the unparalleled craftsmanship of Midleton's Master Distillers. Each batch is carefully curated and hand-selected, ensuring only the finest quality spirits make it into each bottle. The distinct flavor profile features notes of honeyed fruit, toasted oak, and vanilla that linger on the palate long after each sip. This limited edition release pays homage to Midleton's rich history while offering a taste experience like no other. Indulge in luxury with every pore of Midleton Very Rare 2021 - an exceptional addition to any connoisseur's collection
Indulge in the rich and luxurious taste of Midleton Very Rare 2021, crafted by a Master Distiller with over four decades of experience
Experience the perfect balance of smoothness and complexity in every sip of this premium whiskey
Elevate your drinking experience with the rarest and most exclusive offering from one of Ireland's oldest distilleries
Midleton Very Rare 2021
This is the 38th Vintage of Midleton Very Rare and the first vintage by Kevin O'Gorman, Master Distiller and Master of Maturation at the Midleton Distillery. Kevin has taken the best of Maturation and Distillation and created a vintage that has the balance of both.
The Whiskey: 2021 Vintage
As with all Midleton Very Rare it is a blend of Pot Still and Grain whiskeys.
Multiple pot still styles are contained in the blend. Light Pot, Mod Pot and good parcel of casks of Trad Pot from 1984 in homage to Master Distiller emeritus and creator of Midleton Very Rare, Barry Crockett and the first year of the release of Midleton Very Rare.
All Pot Still and Grain has been aged in 1st and 2nd Fill American Oak Ex American Whiskey Barrels.
It contains a very proportion of Pot Still but a slight increase in the grain whiskeys in comparison to last year's vintage (which was very high in Pot Still), older grains add finesse and floral contribution to the Whiskey.
Age range 15-36 Years.
A.B.V. 40%