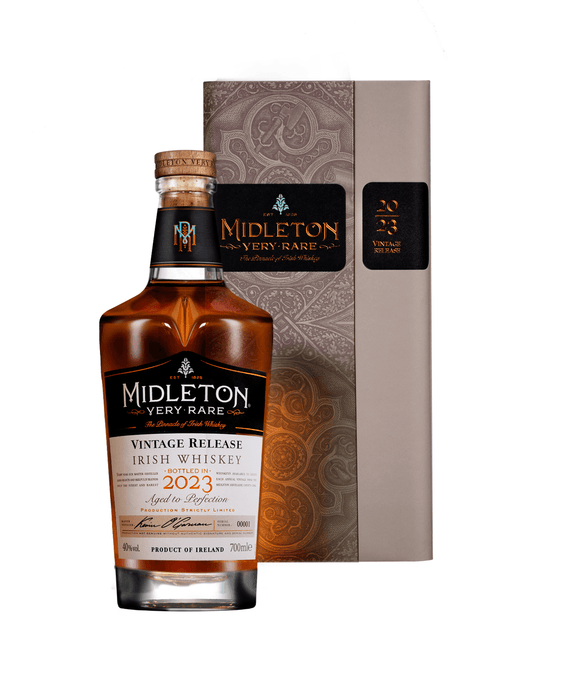 Midleton Very Rare 2023 5cl Sample Dram
Original price
$32.00
-
Original price
$32.00
Savor the essence of time in every sip with Midleton Very Rare 2023s complex blend of pot still spices and oak tannins, crafted to perfection like no other whiskey.
Indulge in the distinguished and captivating taste of Midleton Very Rare 2023 with our exclusive 5cl sample dram. The whiskey's unique blend of pot still spices, creamy vanilla undertones, and oak tannins make each sip a luxurious experience for your palate. This complex spirit has been crafted with exceptional care using only the finest ingredients to create a smooth and sophisticated profile that will leave you wanting more. Whether you're an avid whiskey enthusiast or simply looking for a refined drink to savor on special occasions, this rare gem is sure to impress even the most discerning connoisseur. Discover the excellence of Midleton Very Rare 2023 today – one small sip at a time!
Experience the rich and complex flavors of Midleton Very Rare 2023 whiskey in a convenient 5cl sample dram
Savor the harmonious blend of pot still spices and oak tannins, resulting in a smooth finish
Perfect for whiskey enthusiasts looking to try out one of Ireland's most soughtafter blends without committing to a full bottle
Impress your guests with this exclusive addition to your collection or gift it to someone special who appreciates fine whiskey craftsmanship
This dram is filled from original bottle into a generis glass bottle.
ABV 40%
AromaOpens with an intricate medley of fruits including nectarines, ripe melon, green apple, and apricot. A solid foundation of pot still spices, showcasing notes of freshly peeled ginger and crushed peppercorns, work in tandem with the aged grain's perfumed notes of dried flowers and delectable golden syrup. The oak continues to reveal itself, adding notes of vanilla, combined with a honeycomb sweetness and freshly roasted coffee beans.
TasteLuscious at first with succulent fruits and a distinctive creaminess along with a herbal quality akin to camomile tea. The pot still spices add depth and intrigue as they weave amongst the floral grain qualities found lingering throughout. The charred oak's influence continues to build over time creating additional complexity as the wood-derived spices complement the ever-present fruits of candied orange and dried apricot.
FinishThe fruits and pot still spices build to a crescendo before giving way, leaving the final say to the oak tannins and antique grain whiskey.