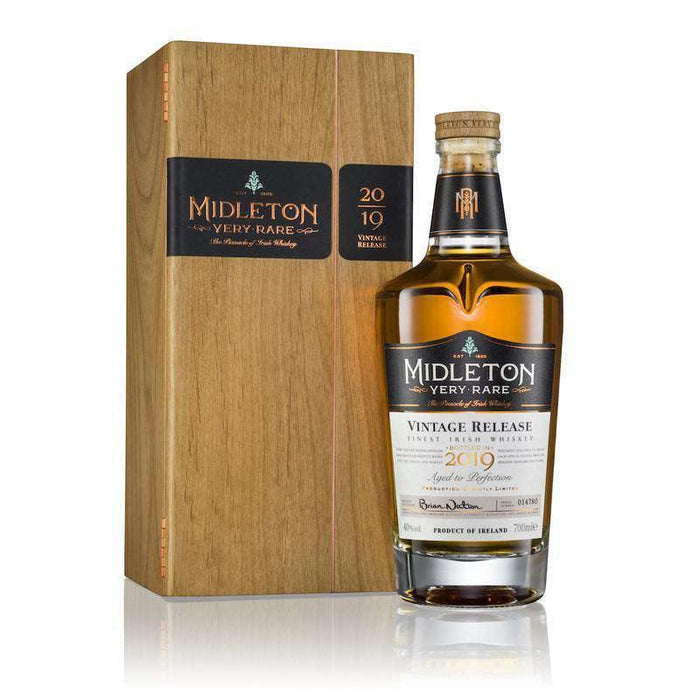 Midleton Very Rare 2019
Original price
$575.00
-
Original price
$575.00
Indulge in the unparalleled taste of Midleton Very Rare 2019, crafted with precision and passion, this Irish whiskey is a true masterpiece of single pot still distilling.
Midleton Very Rare 2019 is a luxurious Irish whiskey that will captivate even the most discerning of palates. Crafted from Single Pot Still, this rich and complex spirit has been aged for up to 36 years in specially selected oak casks delivering an exquisite smoothness with notes of honey, vanilla and toasted oak. Each bottle of Midleton Very Rare 2019 is individually numbered, making it a truly unique addition to any collection or as a special gift for those who appreciate rare and premium quality spirits. Exceptionally crafted with uncompromising attention to detail, allow yourself to indulge in the ultimate luxury of this quintessential Irish whiskey experience
Crafted from single pot stills, this limited edition release showcases the best of traditional Irish distilling techniques
With only a limited number of bottles available worldwide, owning Midleton Very Rare 2019 means having an exclusive addition to your collection
The elegant packaging and rich history behind the brand make it an ideal gift for any whiskey enthusiast or collector
Midleton Very Rare 2019 is the result of the careful blending of exceptional, rare and hand-selected single pot still and single grain Irish whiskeys.

Each cask has been matured exclusively in lightly-charred ex-Bourbon American oak barrels for between 12 and 28 years, imparting a vanilla sweetness
which is in keeping with the rich tradition laid down by the series over the past four decades.
The 2019 edition offers a subtle floral note alongside a hint of fresh herbs and citrus from the Irish grain whiskey contribution, which is complemented by the spicier Irish single pot still whiskey characteristics of cinnamon, clove and black pepper. The vanilla sweetness contrasts with the charred oak to deliver a finishing touch of orchard fruit, green banana and a hint of barley sugar.