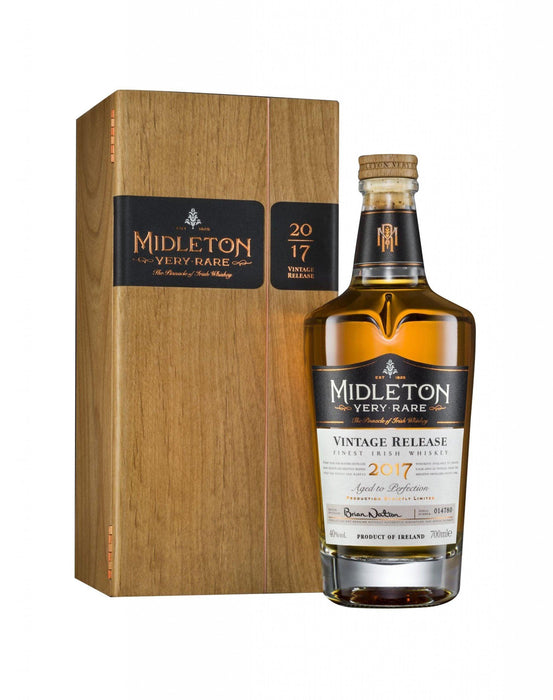 Midleton Very Rare 2017
Sold out
Original price
$1,299.00
-
Original price
$1,299.00
Experience the essence of luxury with Midleton Very Rare 2017, now presented in a stunning new shape bottle.
Midleton Very Rare 2017 is a rare and exquisite Irish whiskey that is perfect for those who appreciate the finer things in life. This limited edition 2017 release exhibits a smooth, complex flavor profile with notes of vanilla, honey, and toasted oak. The new shape bottle adds an extra touch of elegance to this already luxurious whiskey. Each bottle has been carefully crafted by Midleton's master distiller to ensure unparalleled quality and taste. Indulge yourself in the unrivaled sophistication of Midleton Very Rare 2017 - a true masterpiece amongst whiskies
Midleton Very Rare 2017 is a premium Irish whiskey with a smooth and rich flavor profile that will delight any connoisseur
The new shape bottle of Midleton Very Rare 2017 adds an extra touch of elegance to your collection or giftgiving experience
With only the finest barrels selected for this limited edition release, you can trust in the quality and craftsmanship behind every sip
Whether enjoyed near or in a classic cocktail, Midleton Very Rare 2017 is sure to impress even the most discerning palates with its exceptional taste and aroma
Midleton Very Rare 2017 - New Shape Bottle
AromaA delicate introduction of sweet mandarin orange citrus with green banana and vanilla. The light herbal notes develop until the typical pot still spices, including cardamom, nutmeg and peppers, show the signature Midleton style. Whilst a touch of cedarwood and charred American oak add to the complexity.
TasteThe smooth initial mouth coating is initially sweet with vanilla and red apple, before the more robust spices, cinnamon and clove with a slice of root ginger, show their presence. There is a polished antique wood contribution from the barrels alongside some light tannins and charred oak.
FinishThe finish is extra long as the spices subside giving way to green fruit and stalks of barley.