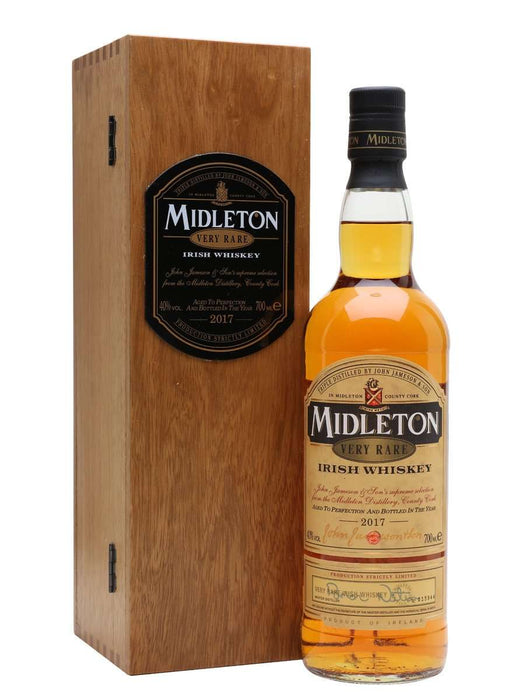 Midleton Very Rare 2017
Sold out
Original price
$610.00
-
Original price
$610.00
Experience the essence of Irish whiskey perfection with Midleton Very Rare 2017, a masterpiece in the Very Rare series.
Indulge in the epitome of Irish whiskey expertise with Midleton Very Rare 2017, a timeless creation that embodies sophistication and allure. As part of the highly coveted Very Rare series, this Midleton whiskey is crafted from some of Ireland's rarest and most exceptional casks, expertly selected by Master Distiller Brian Nation. With its distinct aroma and unparalleled flavor profile, this Irish whiskey is sure to captivate even the most discerning connoisseur. Savor every sip as you experience notes of vanilla, honeyed oak, toasted wood and spice dance on your palate. Elevate your drinking experience with Midleton Very Rare 2017 - an exquisite expression of Irish craftsmanship at its finest
Indulge in the smooth and rich flavor of Midleton Very Rare 2017, a premium Irish whiskey from the renowned Midleton distillery
Enjoy an exceptional drinking experience with this limited edition release from the coveted Very Rare series
Savor the complex notes of vanilla, honey, and spice that make this whiskey stand out among its peers
Impress your guests or gift a connoisseur with a bottle of Midleton Very Rare 2017
A true testament to craftsmanship and quality in Irish whiskey making
Terrific whiskey from Midleton, part of the Very Rare series that was first created by then Master Distiller Barry Crockett in 1984. This 2017 edition includes the oldest whiskeys used in the blend so far – 26-year-old single pot still whiskey and 32-year-old grain whiskey – and in total the blend ranges from 12 years to 32 year in age, all matured in ex-bourbon barrels.
This is an intensely aromatic whiskey with notes of floral honey, crunchy apples, mangos, vanilla biscuits and a twist of citrus. These carry over into the palate, where they are joined by toffee and spices, most notably ginger. Midleton Very Rare 2017 is a fine dram that would make a superb gift for any Irish whiskey lover.