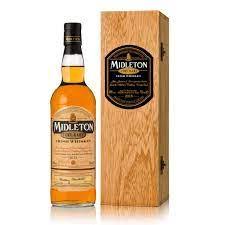 Midleton Very Rare 2013
Original price
$1,739.00
-
Original price
$1,739.00
Indulge in the legacy of Barry Crockett with Midleton Very Rare 2013, a small batch blend that is truly exceptional.
Midleton Very Rare 2013 is a whiskey with an unrivaled reputation for excellence. The small batch blend crafted by Barry Crockett, the legendary Master Distiller, presents a unique and rare experience that you simply cannot miss. This extraordinary whiskey boasts of matured flavors consisting of fruity notes layered with warm spices making it a true classic among collectors and connoisseurs alike. Whether you are celebrating an occasion or savoring its taste in the comfort of your own home, Midleton Very Rare 2013 will surely make every moment worth remembering. Get ready to indulge in the pinnacle of Irish distilling history!
Experience the ultimate luxury of Midleton Very Rare, a small batch blend crafted by legendary distiller Barry Crockett
Savor the rich and complex flavors of this limited edition 2013 release, a true testament to Irish whiskey craftsmanship
Elevate your drinking experience with Midleton Very Rare's smooth and creamy texture, perfect for sipping neat or on the rocks
Impress even the most discerning whiskey connoisseurs with this highly soughtafter bottle from one of Ireland's most prestigious distilleries
The 2013 edition of Midleton Very Rare, the last to be selected by Master Distiller, Barry Crockett. The flagship blend from Ireland's biggest distillery (home of Jameson), it is a small batch blend released annually, generally to universal acclaim.