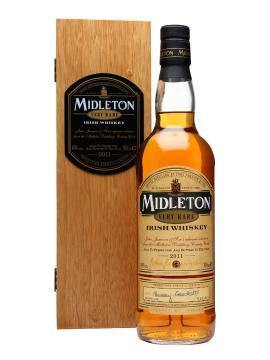 Midleton Very Rare 2011
Sold out
Original price
$1,476.00
-
Original price
$1,476.00
Indulge in the essence of Irish perfection with Midleton Very Rare 2011, meticulously handpicked by the legendary Barry Crockett at the heart of Irelands finest distillery.
Midleton Very Rare 2011 is the epitome of elegance and sophistication. This Irish whiskey, carefully crafted at the Midleton distillery, boasts a flawless balance of sweet honey and rich spices on the palate. Handpicked by Barry Crockett himself, this rare blend has been aged to perfection for a minimum of twelve years in individually selected oak casks. Its smooth texture and distinct aroma make it an irresistible choice for any connoisseur. Indulge in this exceptional offering from one of Ireland's most prestigious distilleries today!
Indulge in the luxurious taste of Midleton Very Rare 2011, handpicked by the legendary Barry Crockett
Experience the authentic Irish distillery flavors with every sip of this exclusive whiskey
Savor a smooth and rich drinking experience that is unmatched by any other brand
Elevate your collection with this limited edition bottle, perfect for gifting or special occasions
Midleton Very Rare 2011 is a special series of bottlings from the Irish distillery. The series was launched in 1984 and each bottle is a blend of the finest distillates which have been handpicked by the distillery manager Barry Crockett.
There is a new release each year, and this particular release was aged to perfection and bottled in 2011.
Each bottle is individually numbered and comes with a certificate of authenticity.