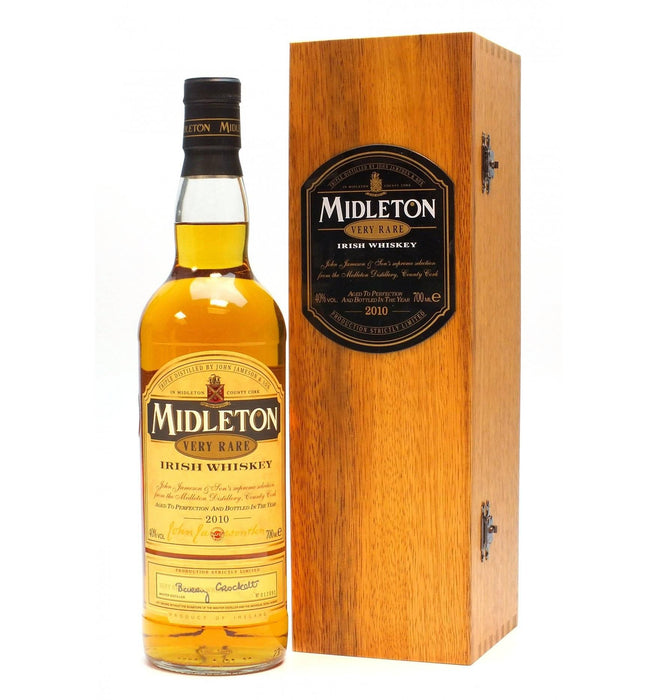 Midleton Very Rare 2010
Original price
$2,087.00
-
Original price
$2,087.00
Indulge in the timeless taste of Irelands finest with Midleton Very Rare 2010 - a vintage release that embodies the artistry and elegance of Irish whiskey.
Midleton Very Rare 2010 is a connoisseur's pick of the Irish whiskey world. From one of Ireland's most revered distilleries comes this vintage release that represents the epitome of luxury spirits. This ultra-premium whiskey has been carefully crafted and matured for over a decade, resulting in an exceptionally smooth and rare taste experience that lives up to its reputation as one of the finest Irish whiskeys available today. If you're looking for a unique gift or indulgence, Midleton Very Rare 2010 is sure to impress even the most discerning palate with its complex flavor profile and unparalleled quality
Midleton Very Rare 2010 is a vintage release, showcasing the best of Irish whiskey
The rich and complex flavors of this premium spirit make it perfect for sipping on special occasions
With its exceptional quality, Midleton Very Rare 2010 makes an impressive gift for any whiskey enthusiast
Experience the smoothness and depth of flavor that only comes from years of expert craftsmanship with every sip of Midleton Very Rare 2010
Midleton Very Rare 2010 Created in 1984 and released annually since then, Midleton Very Rare is one of the most exclusive and sought after Irish whiskeys. Once a year our Master Distiller hand selects only the finest and rarest whiskeys available to him and then carefully blends them to create each annual vintage of Midleton Very Rare Vintage Release. Only a limited number of bottles of this unique Irish whiskey vintage are released each year.
AromaThere is the light delicate scent of rose water which, on closer inspection, develops into a rich vanilla and honey sweetness. This goes to compliment a succulent body of baked apples, melon and a touch of dried fruit. The fine hint of charred oak and subtle pot still spices give the aroma wonderful balance.
TasteThe initial sip has a very satisfying mouth coating effect. The sweet vanilla notes line the tongue before the crispness of the pot still spices, black pepper, cinnamon and cloves combined with green apples and unripe pears, all contribute to the complexity of flavour.
FinishIn the finish, as the flavours subside, there is an exquisitely mellow reminder of the charred American Oak used for the many years of maturation.