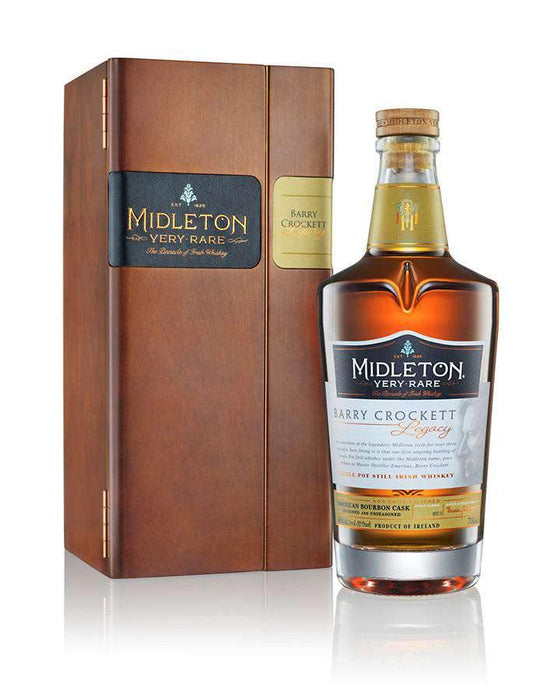 Midleton 'Barry Crockett Legacy' Pot Still Whiskey
Sold out
Original price
$0.00
-
Original price
$0.00
Savor the ultimate expression of Irish whiskey craftsmanship with Midletons Barry Crockett Legacy Pot Still - a symphony of rich flavors distilled into a single, unforgettable experience.
Indulge your senses with the exquisite taste of Midleton Barry Crockett Legacy Pot Still Whiskey. Made from single pot still Irish whiskey, this precious liquid has been aged for over 20 years to achieve its unmatched depth and character. The legacy of Master Distiller Barry Crockett is proudly upheld through every bottle of this exceptional blend, which boasts a richness in flavor that can only be found in the finest whiskeys. Whether you are an avid whiskey collector or simply looking for a luxurious addition to your liquor cabinet, Midleton Barry Crockett Legacy Pot Still Whiskey is the ultimate choice for those who appreciate premium quality and unparalleled craftsmanship
Made using traditional single pot still technique, this premium whiskey offers a rich and complex flavor profile
Named after the legendary master distiller Barry Crockett, it is a tribute to his legacy of crafting exceptional whiskies
Add Midleton 'Barry Crockett Legacy' Pot Still Whiskey to your collection and enjoy its smooth finish that lingers on your palate for long
This pinnacle of the Single Pot Still range, Midleton Barry Crockett Legacy, marked the first time since John Jameson that an Irish Distillers whiskey had been named after a Master Distiller. Single Pot Still whiskey is unique to Ireland in general and to the Midleton Distillery, Co. Cork, in particular, and is regarded as the quintessential style of Irish whiskey. Made from a mash of malted and unmalted barley and then triple distilled in traditional copper pot stills, Pot Still whiskeys are characterised by full, complex flavours and a wonderful, creamy mouthfeel.
Tasting Notes
Aroma: Elegant aroma of vanilla and toasted oak complimented by a touch of lime, succulent green berries, pears and green sweet pepper.
Taste: Light pepper carries onto fresh citrus, limes and mandarin orange sweetness. A hint of cinnamon with vanilla and oak reveals its years spent in American oak.
Finish: The full spectrum of flavours lasts well into the finish, slowly fading to expose the clean American oak foundation.