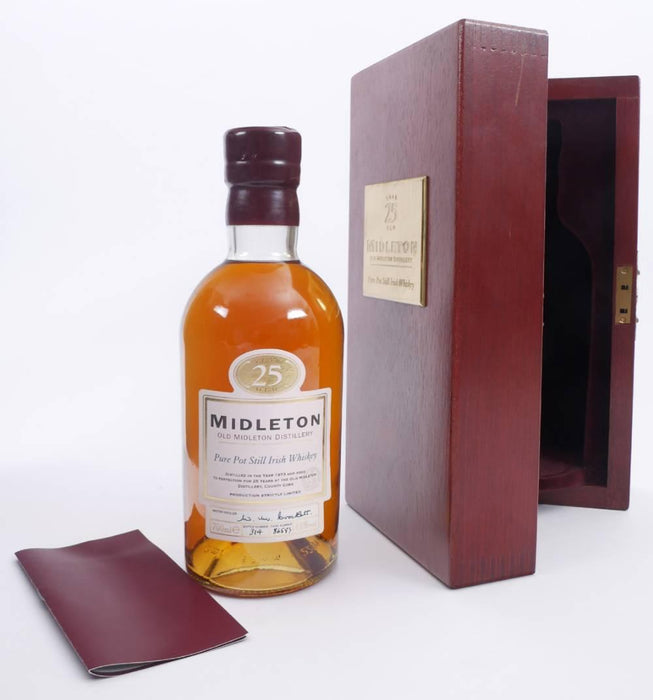 Midleton 25 Year Old Pure Pot Still
Original price
$3,975.00
-
Original price
$3,975.00
Celebrate the pure essence of Midletons heritage with our 25 year old pot still, crafted by the hands of master distillers since 1973
The Midleton 25-Year-Old Pure Pot Still is a true masterpiece that embodies the excellence of Irish whiskey-making, thanks to its unique combination of carefully selected ingredients and expert craftsmanship. This exceptional blend was created to celebrate the legacy of one of Ireland's most iconic distilleries, as it features a rare selection of whiskies distilled in 1973 by Master Distillers who have pushed the boundaries of their craft for over two centuries. The result is an exquisite spirit with unparalleled complexity and depth: every sip brings you closer to the essence of aged whiskey, as notes of oak, vanilla and spice merge into a harmonious symphony on your palate. Enjoy this special whiskey on its own or paired with your favorite cigar - it's certain to impress even the most discerning connoisseurs!
Experience the rare and exceptional taste of Midleton 25-Year-Old Pure Pot Still, crafted with expertise by Master Distillers since 197
Indulge in a smooth and rich flavor profile that has been aged to perfection for 25 years, offering a truly luxurious drinking experience
Elevate your whiskey collection with this limited edition release from Midleton, showcasing the brand's commitment to quality and tradition
Treat yourself or a loved one to an unforgettable sipping experience with Midleton's finest expression of Irish pot still whiskey
The Midleton 25-Year-Old Pure Pot Still
Midleton 1973 Master Distiller's 25 Year Old
A very very rare bottling of Midleton distilled in 1973 at the original Old Midleton distillery in Cork, and bottled 25 years later.
The Old Midleton distillery was established by the Murphy brothers in 1825, having converted an old wooden mill originally built by Marcus Lynch on land granted to him by the Viscount Midleton. The Cork Distilleries group was formed in 1867, with Midleton joining the following year, and over the next century, it was the last in the company still active. Cork Distilleries has been the product of a market downturn caused by various political, social and economic factors, and just shot of 100 years later, a similar melting pot of problems was boiling over. The result was that Ireland remaining three companies, Cork Distilleries, Powers and Jameson, all joined forces to become the Irish Distillers group. Their distilleries were closed down over the next decade, with all operations moved to a New Midleton distillery, which opened in 1975. Old Midleton is now the home of a Jameson visitor experience, and whiskey distilled there in its time is increasingly valuable.