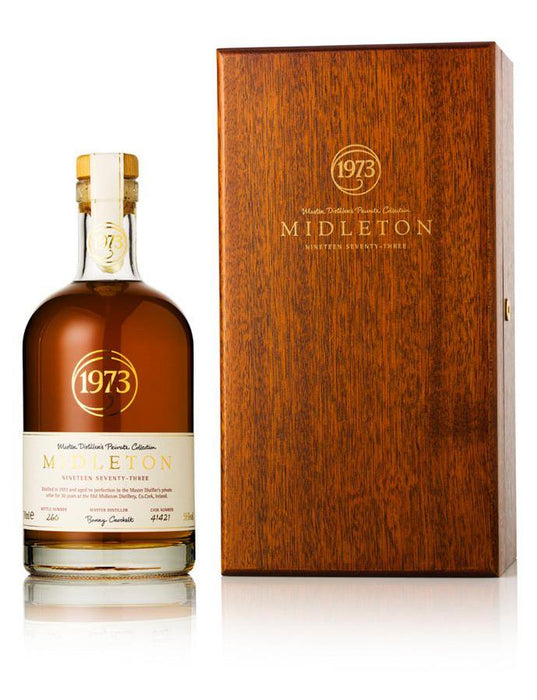 Midleton 1973 30 Year Old
Sold out
Original price
$4,348.00
-
Original price
$4,348.00
Savor a piece of history with Midleton 1973 - the Master Distillers Private Collection from the Old Midleton Distillery
Indulge in the unrivaled richness and complexity of Midleton 1973 30-Year-Old, a precious gem from the Master Distiller's Private Collection. This premium whiskey is an ode to the heritage and legacy of Old Midleton Distillery, where it was crafted with utmost care by skilled artisans over three decades ago. Each sip reveals layers of nuanced flavor that only time can bestow - from warm caramel notes to hints of vanilla, oak and spice that dance on your palate in perfect harmony. With its deep amber hue and exquisite aroma, this rare offering is more than just a drink; it's an experience that transports you back in time to savour Ireland's finest traditions
Midleton 1973 is a rare and exquisite whiskey from the Master Distiller's Private Collection, perfect for collectors or connoisseurs
Aged for 30 years in oak casks at the Old Midleton Distillery, this whiskey boasts rich flavors of vanilla, caramel and spice
The complexity and depth of flavor in Midleton 1973 make it an ideal choice for sipping neat or on the rocks as a luxurious treat
As one of Ireland's most prestigious distilleries, owning a bottle of this limited edition release is sure to impress guests and elevate any occasion
Midleton 1973 Master Distiller's Private Collection 30 Year Old
A very very rare bottling of Midelton distilled in 1973 at the original Old Midleton Distillery and bottled 30 years later.
The Old Midleton distillery was established by the Murphy brothers in 1825, having converted an old woolden mill originally built by Marcus Lynch on land granted to him by the Viscount Midleton. The Cork Distilleries group was formed in 1867, with Midleton joining the following year, and over the next century, it was the last in the company still active. Cork Distilleries has been the product of a market downturn caused by various political, social and economic factors, and just shot of 100 years later, a similar melting pot of problems was boiling over. The result was that Ireland remaining three companies, Cork Distilleries, Powers and Jameson, all joined forces to become the Irish Distillers group. Their distilleries were closed down over the next decade, with all operations moved to a New Midleton distillery, which opened in 1975. Old Midleton is now the home of a Jameson visitor experience, and whiskey distilled there in its time is increasingly valuable. 
In 1973, Max Crockett Master Distiller of the Old Midleton Distillery selected a number of his finest whiskey casks to form part of his private collection. The whiskey was released in 2003 by his son Barry Crockett who was the then Master Distiller at the New Midleton Distillery. 30 years of aging in three casks types imparted the essential hallmark of a very old whiskey – complexity and fullness of taste. This particular complexity comes from the marriage of pot still whiskeys aged in bourbon barrels, sherry butts and port pipes.
Tasting Notes
Nose: Rich Iberian stone fruits topped with sweet heathered honey, lead to the spicier pot still notes and a touch of old leather.
Taste: The distinctive and unique character of Old Midleton Pot Still is unmistakeable in this venerable old Irish Whiskey. Extremely oily with layers of spices, rich ripe fruit, heather honey and sweet butterscotch toffee. This evolves overtime to reveal the rich tannins and wood spices that all come together to create this wonderfully full bodied and flavoursome whiskey.
Finish: The rich old Midleton pot still lingers rounded with the wood spices that seem to last forever.