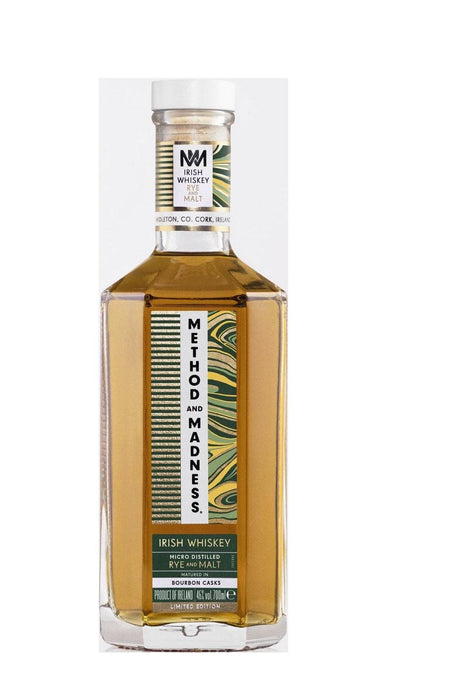 Method And Madness Rye & Malt 5cl Sample Dram
Sold out
Original price
$11.00
-
Original price
$11.00
This is a 5cl sample dram filled from original bottle
METHOD AND MADNESS Rye & Malt – the first aged experimental distillate release created at the Micro Distillery in Midleton. Innovation is nothing new to Midleton, but the micro distillery has provided the copper canvas for experimentation to run free. This whiskey is the realisation of trial, and error, and brilliant bottled breakthroughs that started with "What if?
Masterfully created by our next generation of innovative whiskey makers, METHOD AND MADNESS Rye & Malt is a distillate-driven whiskey, bursting with floral notes and a spicy character. The combination of rye with malted barley brightens the whiskey's naturally wide spectrum of flavours and aromas to evoke notes of lemon balm, white pepper, chili flakes and toasted wood with a lingering finish of spiced fruit.
WHEN IT COMES TO NEW SCHOOLS OF
THOUGHT, THESE ARE OUR STAR
PUPILS.
Hand-crafted under the creativity and care of Distiller Katherine Condon – the release represents the young team's fearless and relentless approach to trial and error. First experimenting in the lab to discover the ideal ratio of 60% rye to 40% grain, Condon and the team then took advantage of the Micro Distillery's manual processes, trialling varying rates of reflux and distillation to achieve the perfect crisp, spicy flavour.
The METHOD AND MADNESS journey first began six years ago when the Micro Distillery opened its doors with a mission to further support the resurgence of Irish whiskey, drawing on research into wood influences and cereal mixes, historic mash bills from the Irish Distillers Archive and the restless curiosity of its craftspeople.
Driven by a desire to create whiskey that paid heed to tradition while searching for the new and extraordinary, the Micro Distillery team double-distilled a mash of rye and malted barley and left it to mature in ex-bourbon American oak barrels.
RYE MEETS MALT.
Cereal notes meet spicy undertones
Mash Bill: 60% Rye & 40% Malted Barley
Distillation: Double Distilled
Maturation: Ex-Bourbon Casks
ABV: 46% & Non-Chill Filtered