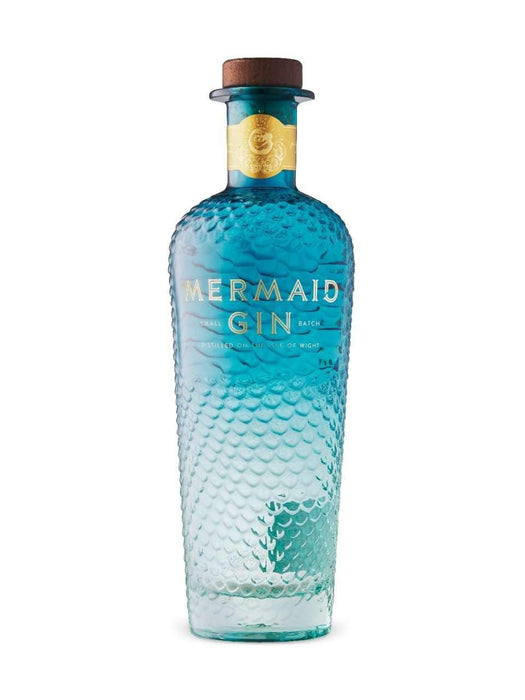 Mermaid Gin 70cl
Sold out
Original price
$53.00
-
Original price
$53.00
We know you shouldn't judge a book by its cover, but this has to be one of the most visually arresting gins on the planet. In fact, the International Wine and Spirits Competition revealed it as the winner of their Bottle Design Award 2019, making it officially the world's most beautiful gin bottle. But there's more to this than meets the eye. So let's dive a little deeper…
As we all know mermaids come from the ocean, and our seas are under threat from plastic. But the remarkable Mermaid Gin will not be adding to that because the Isle of Wight Distillery selects sustainable, recyclable and biodegradable materials for their packaging, and as such this environmentally friendly spirit is plastic free.
It should come as no surprise that Mermaid Gin from the Isle of Wight Distillery is so stunning, as these mythical creatures are renowned in folklore throughout the world for their beauty. But this is something else entirely with its aquatic-coloured, fish-scaled and wooden-stoppered bottle. The gin inside more than lives up to the promise of the packaging. It's crafted in a London Dry Gin style using ten botanicals: rock samphire (known as Mermaid's Kiss) handpicked from the chalk cliffs of the Isle of Wight, Boadicea hops from the local botanic garden, English coriander seeds from Sussex, juniper, organic lemon zest, angelica root, liquorice root, orris root, elderflower and grains of paradise, not to mention lots of good clean coastal air. The result is a rich and zesty gin, liberally seasoned with refreshing salty sea spray and warming cracked black pepper.
The Isle of Wight Distillery is the vision of two friends, Xavier Baker and Conrad Gauntlett, with brewing and winemaking backgrounds. Together they create a range of small batch spirits. They laid down their first barrel of whisky in 2015, they've made a rum aged with oak from an old British Navy warship, and have recently revamped this 'mermazing' gin. No expense is spared by this boutique operation, as the bottle suggests. When distilling, the foreshots and feints (heads and tails) of the run are discarded to ensure the heart of the spirit is smooth and contains none of the nasty bits. For most gins the heart accounts for 80-90% of the run, so very little is lost. However, for Mermaid Gin the heart only comprises around 55%, ensuring the smoothest gin possible and citrus notes that sing as sweetly as a mermaid might to passing sailors.