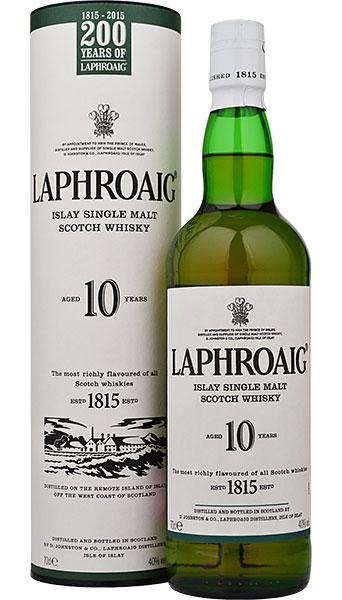 Laphroaigh 10 Year old 70cl
Original price
$57.00
-
Original price
$57.00
Indulge in the smoky gem of Laphroaig 10yo, where peaty characters dance on your palate and awaken your senses.
Indulge your senses with the Laphroaig 10-Year-old single malt scotch whiskey, a smoky gem that is sure to leave you captivated. From its peaty characters to the smooth finish, every sip of this exceptional whiskey takes you on an unforgettable journey through the rugged landscapes of Islay's southern coast. With each drop revealing distinct flavors of salty seaweed and sweet vanilla alongside notes of wood smoke and sea salt, it's no wonder why Laphroaig 10yo remains one of Scotland's most iconic whiskeys. Raise a glass to tradition and savour what is truly an unparalleled experience with every sip!
Enjoy the rich and complex flavors of Laphroaig 10yo, which is aged for a decade to perfection
Savor the distinctive taste of Laphroaig 10yo, which is perfect for whisky connoisseurs who appreciate bold and robust flavors
Indulge in the smoothness and depth of flavor offered by Laphroaig 10yo, making it an excellent addition to any whiskey collection or gift set
Laphroaig 10yo is a full-bodied, smoky gem, with a residual sweetness and a hint of salt amid the seaweedy, peaty characters before a long warming finish. A classic dram.