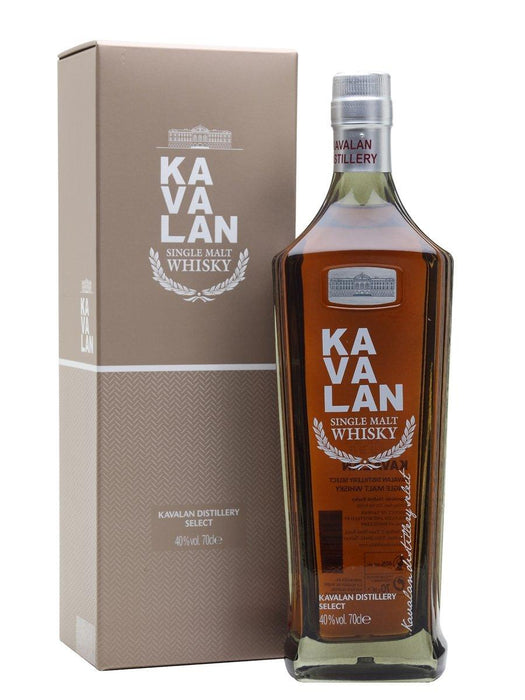 Kavalan Distillery Select No.1
Original price
$48.00
-
Original price
$48.00
Kavalan Distillery Select No.1
An entry-level release from award-winning Taiwanese distillery Kavalan, celebrating the craftsmanship of Master Blender Ian Chang. Aged in refill casks, Distillery Select captures the fruity, tropical character that Kavalan has become known for, whilst also displaying a refined balance from its maturation in the tropical temperatures of Taiwan. The palate is full of notes of tropical fruits and chocolate that mingle with toffee apples, salted-caramel and vanilla. The finish is smooth and fruity, full of pineapple and mango notes, and sweet, tropical spices.
As well as savouring this neat, try Kavalan Distillery Select in an Old Fashioned or a Highball.
NOSE

Pineapples and wax polish, with fruity mooncakes, apple pie and mango tarts – a fruit-filled bakery. Candied lemon notes build, with zesty citrus oils balanced by sweetness. Biscuity notes develop, along with dried apricots and papaya.

PALATE

The pies and cakes return, drizzled with sweetened cream. Spiced apples and freshly sliced pineapple are wrapped in shortcrust pastry and topped with crumble. Sharper fruit notes develop: more apple, unripe mango and poached pear. Creamy vanilla sponge follows, lightly seasoned with baking spices.

FINISH

Sharp fruit fades to leave spiced pastry.

COMMENT

An easy-drinking whisky that doubles down on Kavalan's fruity character.