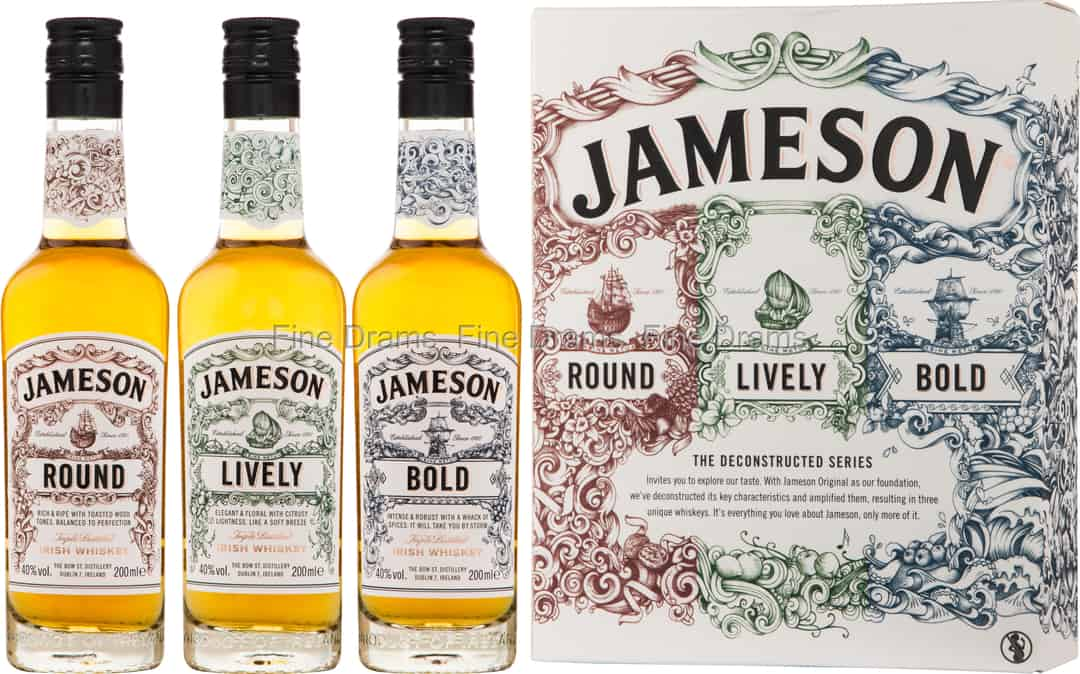 Jameson The Deconstructed Series Trio 3x20cl
Original price
$40.00
-
Original price
$40.00
Jameson The Deconstructed Series Trio - 
Originally designed for the travel retail market, this is an excellent little set that illustrates each of the constituent parts that make Jameson's whiskey so delicious.
The set contains three 20cl bottlings: Round, Lively and Bold.
Round showcases the processes that add a little polish to the final Jameson whisky. As such, it has been aged in interesting casks, such as port, virgin oak and sherry. This whiskey offers flavours of dried fruit, bright vanilla, red berries, toasted malt and sweet caramel grain.
The Lively bottling contains a higher percentage of grain whiskey, which is often used to bind together other flavours in blended whiskies (such as Jameson Original). As a result, this dram is fresh, bright and vibrant, with a sweetness and vigour about it.
Bold contains a higher proportion of single pot still whiskey. A traditional Irish style of the spirit, pot still whiskey is known for its precise, sharp and grassy flavours, alongside a deep caramel sweetness and peppery spice. These notes are certainly on show here, giving this bottling its label of "Bold".
A fascinating series from Jameson, that offers drinkers a deep dive into the different factors that make the Original whiskey so delicious.
This set would make for an excellent tasting alongside a few drams of the original – see if you can pick out where Bold, Lively and Round slot in.