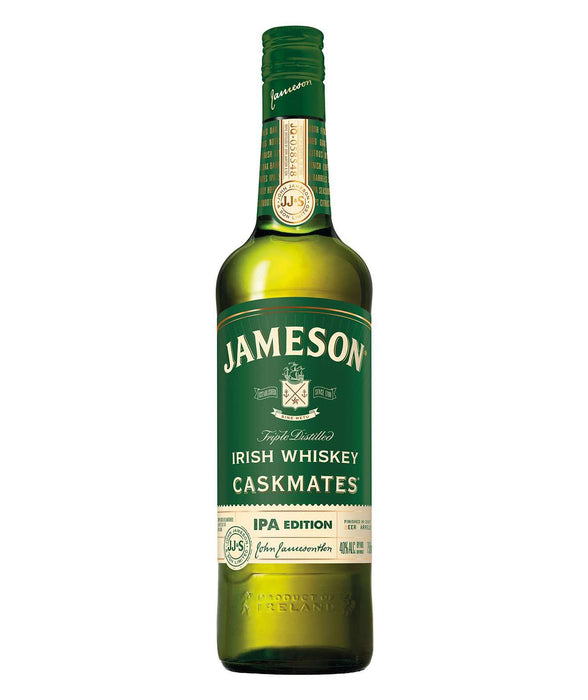 Jameson Caskmates IPA Edition 70cl
Save

$4.00
Save

$4.00
Original price
$35.00
-
Original price
$35.00
Experience the perfect blend of smooth whiskey and hoppy goodness with Jameson Caskmates IPA Edition, aged in authentic IPA beer barrels for a truly unique taste.
Indulge in the refined, yet adventurous flavour of Jameson Caskmates IPA Edition 70cl. This whiskey is crafted with the infusion of bold and hoppy IPA beer barrels, imparting a unique and powerful aroma that invigorates your senses. The smooth mouthfeel offers notes of citrusy hops mellowed by creamy vanilla and toasted oak undertones, resulting in a wonderfully complex taste profile. Savour every sip as you take in this sophisticated blend's caramel sweetness, ending with an unmistakable crisp finish that lingers long after each satisfying drop. Try something new today with Jameson Caskmates IPA Edition 70cl - a perfect choice for those who appreciate distinctive flavours from exceptional blends!
This premium whiskey is aged in barrels previously used to mature IPA beer, resulting in a complex and rich taste that is sure to impress even the most discerning palate
With its distinctive aroma and bold flavor, this innovative blend is perfect for sipping neat or mixing into your favorite cocktails
Whether you're a fan of whiskey or craft beer, the Jameson Caskmates IPA Edition 70cl offers something truly special that you won't want to miss out on
The next great IPA is… a whiskey. Introducing Jameson Caskmates IPA Edition – a whiskey that is finished in IPA beer barrels for floral, crisp, hoppy notes.
Like craft beer? Well, why not try a whiskey that incorporates all the great flavours of an IPA. We matured Jameson Irish whiskey in Irish Pale Ale-seasoned barrels, and the end result is something people (well the guys at our Midelton Distillery for one) are calling the next great IPA…
So, if you're a fan of beer, of trying something new, or simply want to be the first to introduce your mates to their 'new favourite drink', try Jameson Caskmates IPA today! It's a whiskey with a little extra hop.