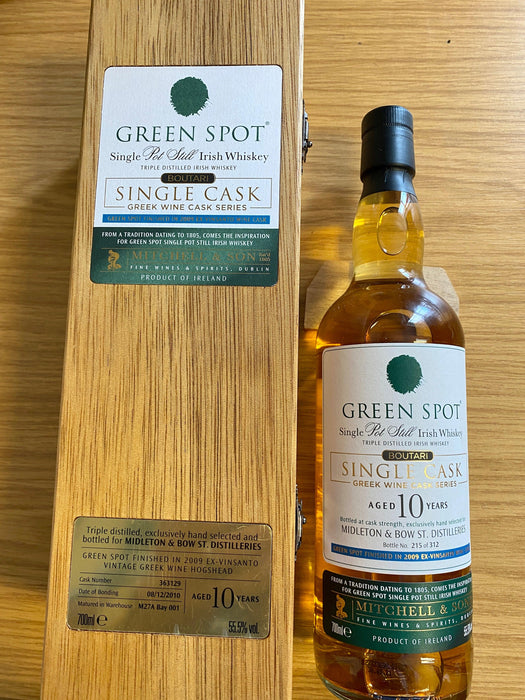 Green Spot Single Cask
Original price
$438.00
-
Original price
$438.00
Indulge in the rich and distinct flavors of Green Spot Single Cask - a rare gem among collectible whiskies, crafted with perfection from the finest single pot stills. Savor every sip and experience the essence of true Irish heritage.
Introducing the exquisite Green Spot Single Cask, a one-of-a-kind whiskey that will redefine your taste buds. This collectible treasure is distilled from the finest ingredients and aged in oak casks to create a unique blend of flavors. The distinctive pot still notes of Green Spot Single Pot Still are prominent in this exceptional iteration, complemented by an array of intricate spices and hints of vanilla. Each sip offers a smooth and silky texture that delivers an indulgent experience unlike any other whiskey. Whether you're a seasoned collector or simply appreciate excellent spirits, Green Spot Single Cask is sure to impress even the most discerning palates with its unparalleled quality and captivating character
With its rich flavor profile and smooth finish, this limitededition whiskey is perfect for savoring on special occasions or as a gift for discerning connoisseurs
Crafted from carefully selected casks that have been aged to perfection, each bottle of Green Spot Single Cask offers an unparalleled taste sensation that will leave you wanting more
Whether enjoyed near or in your favorite cocktail, this rare Irish whiskey is sure to impress with its distinctive character and exceptional quality
A very limited cask strength edition of the iconic Green Spot Single Pot Still. The growing popularity of the Spot Whiskey range, added to the rarity of this bottling make this an extremely collectible whiskey. Only 312 bottles produced.
10 Year Old Single Cask 55.5%ABV