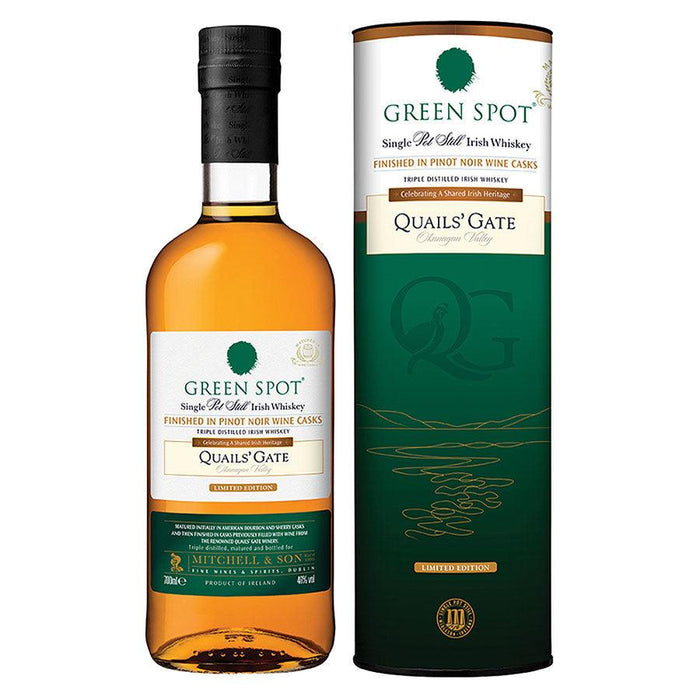 Green Spot Quail's Gate 5cl sample dram
Original price
$10.00
-
Original price
$10.00
Indulge in a taste of Irish heritage with Green Spot Quails Gate - the perfect limited edition dram for any whiskey connoisseur.
Introducing the unique and rare Green Spot Quail's Gate 5cl sample dram. Distilled with precision, this Irish Single Pot Still Whiskey is a true testament to its craft. Its limited edition production allows for an exclusive experience that few have had the privilege of enjoying. With hints of oak, vanilla, and spices delicately balanced within each sip, you'll find yourself immersed in a world of flavor that will leave your taste buds dancing with excitement. Perfect as a gift or for personal indulgence - this whiskey will elevate any occasion to one worth remembering!
Discover the rich and complex flavors of this exquisite 5cl sample dram
Add to your collection or gift it to someone special who appreciates fine whiskey
Enjoy the perfect balance of fruity sweetness and spicy notes in every sip of Green Spot Quail's Gate
This is a 5cl sample filled from original bottle into generic 5cl glass bottles
Green Spot Quail's Gate is an Irish Single Pot Still aged in Bourbon and Sherry casks before being finished in Pinot Noir casks from the Quail's Gate vineyard. Its tasting is woody, spicy and marked by Pinot Noir with flavours of ripe red fruits, vanilla and red wine. Limited edition.