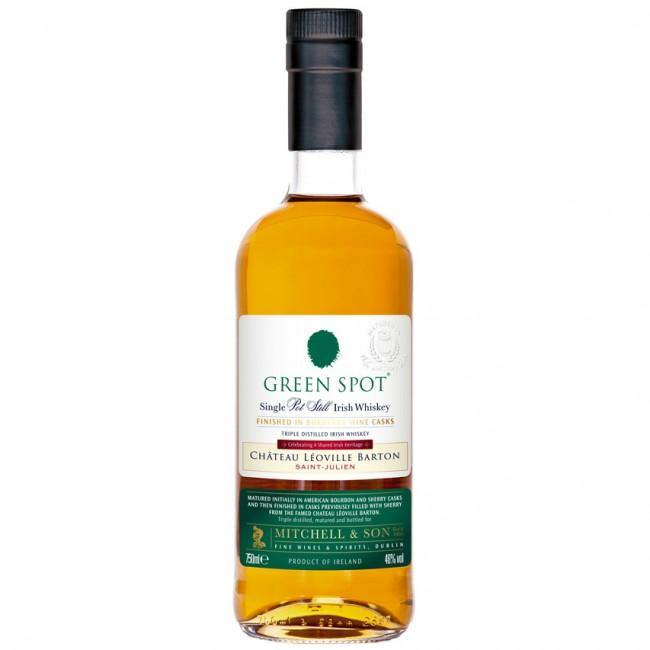 Green Spot Chateau Léoville Barton
Save

$13.00
Save

$13.00
Original price
$66.00
-
Original price
$66.00
Experience the harmonious fusion of Irish heritage and French finesse with Green Spot Chateau Léoville Barton - a tantalizing blend of Single Pot Still Irish Whiskey aged in prestigious Bordeaux wine casks.
Indulge in a remarkable blend of Irish and French artistry with Green Spot Chateau Léoville Barton. This exceptional whiskey is crafted from a unique combination of malted and unmalted barley using the traditional single pot still method, offering you a richly flavoured drinking experience that's unlike any other. Aged for over seven years in ex-Bordeaux wine casks from the esteemed Chateau Léoville Barton, this whiskey boasts an alluring aroma, bold flavour profile and smooth finish that will leave your taste buds craving for more. Sip on this masterpiece neat or on-the-rocks to fully savour its distinct character - it's truly an unforgettable indulgence!
This whiskey is crafted with environmentally conscious practices, making it an excellent choice for those who prioritize sustainability
With its smooth finish and balanced taste, Green Spot Chateau Léoville Barton is perfect for sipping neat or as the base for your favorite cocktail
As a limited edition release, this whiskey makes a great addition to any collector's shelf or gift for the whiskey lover in your life
Their origins in history, two stories of Irish endeavour and enterprise intertwine and together are the inspiration for a special edition whiskey - Green Spot Chateau Léoville Barton. Initially matured in traditional sherry and bourbon casks, Green Spot Chateau Loville Barton was then finished in Bordeaux wine casks, adding an exciting new dimension to this Single Pot Still Irish Whiskey already renowned for its excellent quality.