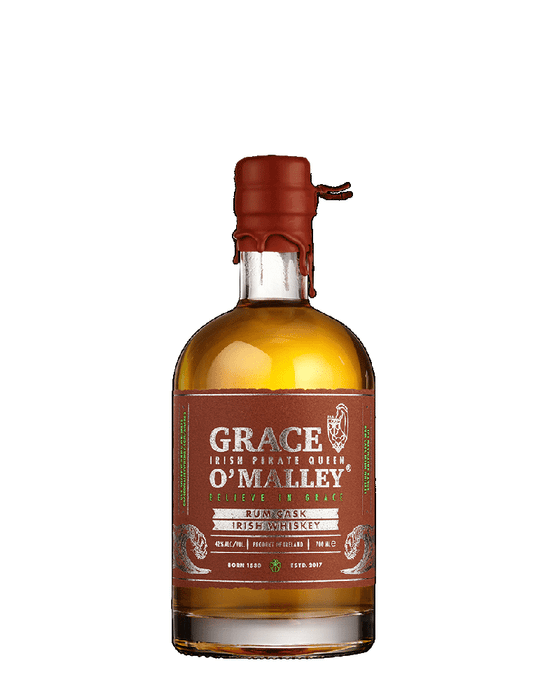 Grace O'Malley Rum Cask Whiskey 70cl
Sold out
Original price
$57.00
-
Original price
$57.00
Indulge in the legendary taste of Grace OMalley Rum Cask Whiskey - a perfect blend crafted by our Master Blender
Grace O'Malley Rum Cask Whiskey 70cl is the perfect blend of traditional whiskey and Caribbean rum that has been aged to perfection in oak casks. This smooth, rich and indulgent spirit offers a luxurious drinking experience with every sip. The secret behind its unmatched aroma and flavor lies in its unique aging process which involves maturing it for years under the watchful eye of our Master Blender. Whether you are savoring alone or sharing among friends, this whiskey will transport you on an unforgettable journey through Ireland's rich history and bring out your inner Irishman where ever you may be!
Enjoy the smooth and rich taste of Grace O'Malley Rum Cask Whiskey, a perfect blend of premium whiskey and aged rum
Savor the warm notes of vanilla, caramel, and oak that are perfectly balanced with a subtle hint of spice
Elevate your drinking experience with this exceptional whiskey that is sure to impress even the most discerning connoisseurs
Created from a unique blend of malt and grain whiskeys, this blend combines multiple batches of whiskey of varying age statements up to ten years to deliver the perfect balance of fruitiness, age-character, complexity and smoothness. Unique in Ireland due to its high content of double-distilled (40%) and triple distilled (6%) malt, the whiskey is finished in wet casks from Jamaican and Barbados rums to give an added rich spiciness. 
Responsible for the decisions at every step in the ageing, finishing and blending of is world-renowned spirits expert, Master Blender, Paul Caris, who calls the exact moment that each whiskey has reached perfection.