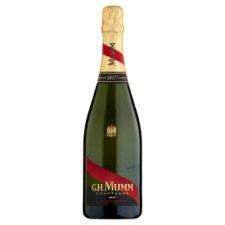 G.H. Mumm Champagne 75cl
Save

$4.00
Save

$4.00
Original price
$43.00
-
Original price
$43.00
G.H. Mumm Champagne Cordon Rouge Brut is a fresh, golden yellow colour with hints of jade, the wine's abundant bubbles, both fine and elegant, demonstrate the finesse of Mumm's Cordon Rouge Champagne. On the nose, aromas of lemon and grapefruit, combined with the richness of firm, fleshy fruits such as white peaches, apricots and tart apples bring freshness and liveliness to the wine. These are followed by hints of vanilla, enriched with caramel. Honeyed nuts also play their part. The bubbles are rich on the palate, but never overpowering. The perfect balance is combined with a rounded, full vinosity. The mix of fresh fruit and caramel aromas give even more intensity to the finish. This is a subtly balanced wine with a remarkable capacity to linger in the mouth.
Country: France
Region: Champagne
Vintage: NV
Colour: White
Grape Variety: Pinot Noir, Chardonnay, Pinot Meunier
ABV: 12%
Bottle Size: 75cl
Closure: Natural cork
Style: Traditional method sparkling
Vegetarian: Yes (not certified)
Vegan: Yes (not certified)
Drink With: Ideal as an apéritif and beyond, G.H. Mumm Cordon Rouge works as well as an accompaniment to white meat, as it does to fish or fine cured meats such as Italian ham or smoked duck breast
The style of every G.H. Mumm Cordon Rouge
cuvée
is a constant, subtle balance of freshness and intensity. Mumm Cordon Rouge is blended from 77
crus
, every one unique. The blend of grape varieties traditionally used by Mumm is Pinot Noir (45%) that endows the wine with structure and strength, Chardonnay (30%) that ensures both finesse and elegance and Pinot Meunier (25%) which has fruity, sharp and well-rounded notes that complete the blend. Each grape variety and cru is pressed and vinified separately to ensure a wide range of aromas and taste sensations, and 25-30% of reserve wines are added to bring depth and harmony to the final blend. The
dosage
has a residual sugar content of 8g/l to remain constant and true to the G.H. Mumm style.