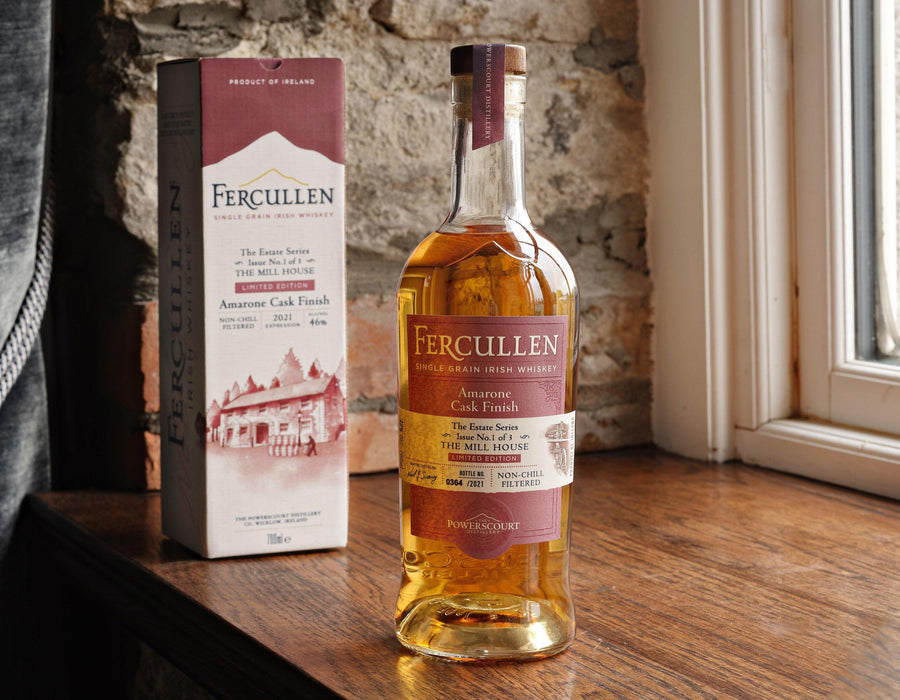 Fercullen Amarone Cask Finish 5cl Sample Dram
Sold out
Original price
$8.00
-
Original price
$8.00
Savor the essence of Italy with Fercullen Amarone Cask Finish - a limited edition single grain Irish whiskey thats been kissed by the rich flavors of Amarone casks. Indulge in a dram and let your taste buds take you on an unforgettable journey.
Indulge in the exquisite flavors of Fercullen Amarone Cask Finish 5cl Sample Dram, a true gem for whiskey enthusiasts. Carefully crafted from single grain Irish whiskey and matured to perfection with an exceptional twist of Amarone cask finish, this limited edition spirit is a must-try. Its rich aroma boasts hints of red fruits and grapes which complement the robust taste that will leave you wanting more. Perfectly sized for sampling, this 5cl bottle promises to impress even the most discerning palate. Treat yourself or surprise someone special with this remarkable treasure that exudes sophistication and luxury
Enjoy the rich and complex flavors of this premium whiskey, aged in Amarone casks for added depth
Savor every sip of this 5cl sample dram and discover why Fercullen is one of Ireland's most soughtafter distilleries
Treat yourself or someone special to an unforgettable tasting experience with Fercullen Amarone Cask Finish whiskey sample dram
This is a 5cl sample dram filled in-house from an original bottle.
An exquisite Amarone Cask Finish, Single Grain Irish Whiskey of just 2,021 bottles. This Limited Edition release is the first of our Estate Series trilogy, "The Mill House" – an addition to the Fercullen range expertly crafted by Master Distiller, Noel Sweeney.
Nose : 
Spice, liquorice, vanilla, then honey with a twist of lemon, ripe peach, kiwi, cinnamon, oak.
Taste:
Smooth, silky soft texture, honey and cinnamon sweetness, fruit cocktail, light chocolate.
Finish:
Long lasting sweetness from fruits and velvet texture; almost mouth-watering, yet a dry finish.