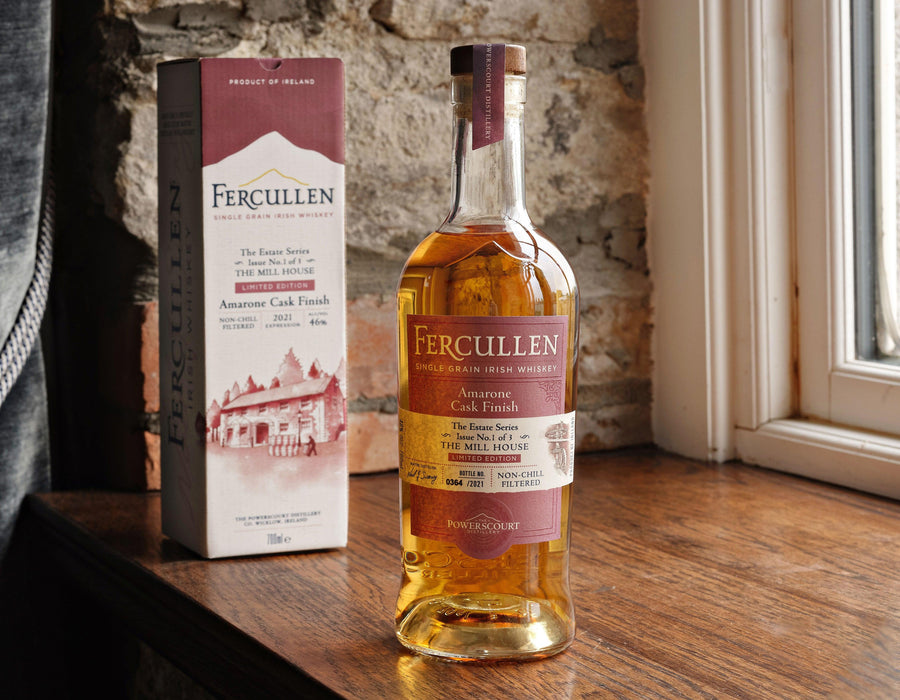 Fercullen Amarone Cask Finish
Sold out
Original price
$66.00
-
Original price
$66.00
Savor the richness of Italys Amarone in every sip of our Limited Edition Fercullen Single Grain Irish Whiskey, aged to perfection in only the finest casks.
Introducing the Fercullen Amarone Cask Finish, a limited edition single grain Irish whiskey that's sure to captivate your taste buds. This exquisite blend has been matured in oak barrels and then transferred to Amarone casks for an extra layer of depth and complexity. The result is a smooth and balanced whiskey with notes of red berries, dark chocolate, vanilla, and spice that will leave you wanting more. Each bottle is crafted with care using only the finest ingredients, making it the perfect gift for any discerning whiskey lover or special occasion. With its rich flavor profile and unique twist on traditional Irish whiskey-making methods, this limited-edition release is not one to be missed!
Enjoy the rich and complex flavors of this premium whiskey, infused with notes of dark fruit, vanilla and spice from its Amarone cask finish
Savor each sip knowing that you are indulging in a oneofakind spirit that has been carefully crafted to perfection by skilled artisans
Elevate your drinking experience with Fercullen Amarone Cask Finish
An exceptional choice for connoisseurs seeking something truly special and distinctive
An exquisite Amarone Cask Finish, Single Grain Irish Whiskey of just 2,021 bottles. This Limited Edition release is the first of our Estate Series trilogy, "The Mill House" – an addition to the Fercullen range expertly crafted by Master Distiller, Noel Sweeney.
Nose : 
Spice, liquorice, vanilla, then honey with a twist of lemon, ripe peach, kiwi, cinnamon, oak.
Taste:
Smooth, silky soft texture, honey and cinnamon sweetness, fruit cocktail, light chocolate.
Finish:
Long lasting sweetness from fruits and velvet texture; almost mouth-watering, yet a dry finish.