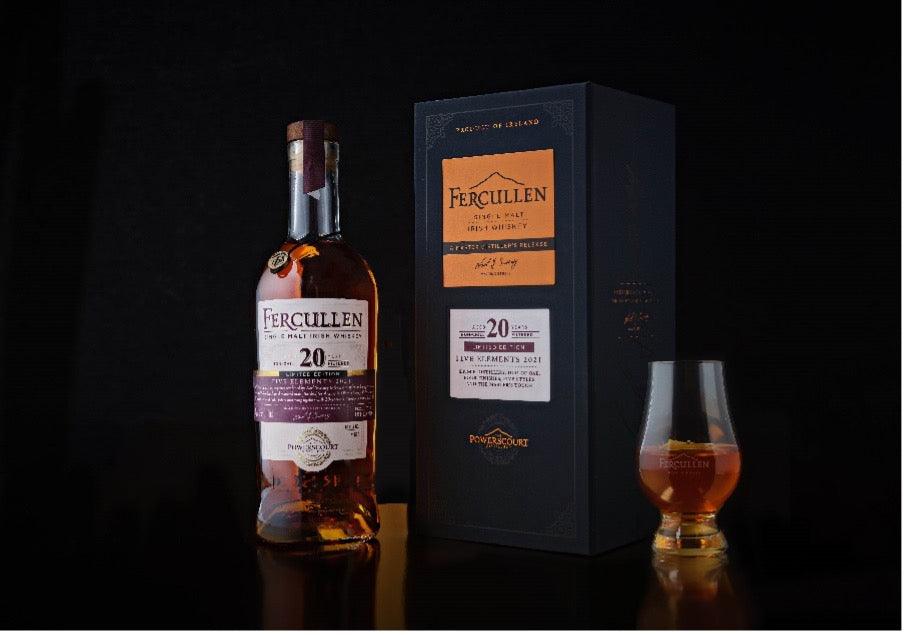 Fercullen 20yo Single Malt 5 Elements
Sold out
Original price
$195.00
-
Original price
$195.00
The eagerly anticipated new addition to the "Five Elements" series is a limited edition 20-year-old single-malt Fercullen.
Following the glowing reception and success of the 2020 release of the first "Five Elements" 18YO malt, Master Distiller Noel Sweeney has unveiled his latest expression of the "Five Elements" series, limited to just 1,500 bottles.
The "Five Elements" include:
A single distillery source.
Two types of oak maturation; American white oak and European oak.
Four finishes;

 

Oloroso Sherry, Pedro Ximenez, Marsala

 

and

 

Muscatel

 

casks.
Five styles;

 

Oloroso Sherry, Pedro Ximenez, Marsala, Muscatel

 

and

 

Bourbon.
The globally recognised touch and blending expertise of Master Distiller Noel Sweeney.
This 20-year-old Single Malt whiskey is a marriage of 5 different cask styles, expertly combined by Noel Sweeney to form a genuinely complex and distinctive whiskey. Noel's legendary experience has been applied to ensure that different proportions of each style lend balance and expression to each of the Five Elements within this 20YO Single Malt Irish Whiskey.
16-year-old bourbon barrel-matured malt whiskey has been finished for four years in a variety of Oloroso sherry, Pedro Ximenez, Marsala and Muscatel casks, before marrying with 20-year-old Bourbon matured Single Malt. Five styles expertly combined by a Master's touch, producing a symphony of flavour in this rare and inimitable Single Malt Irish Whiskey.
Aroma: 
Malt, citrus, boiled sweets, vanilla and honey with a twist of lemon, ripe fruits, plums, raisins, cinnamon, tropical fruits, pineapple, mango, banana, oak and a hint of nuttiness.
Taste:
Layer upon layer of smooth silky sweet malt, Orange, fruit cocktail, chocolate, Christmas cake, tropical fruit and red grape skins. Waves of complexity and taste.
Finish:
Long lasting sweetness from ripe fruits and cream produce a velvety texture and mouth-watering finish.