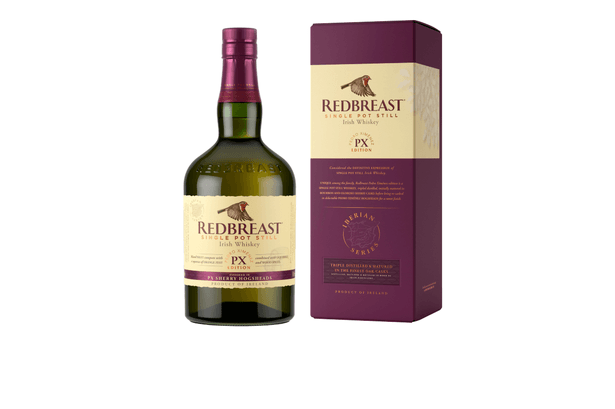 Redbreast PX
Original price
$227.00
-
Original price
$227.00
Indulge in the rich fruit and spice flavors of Redbreast PX, aged to perfection in Pedro Ximénez sherry seasoned casks.
Redbreast PX is not your ordinary Irish whiskey. This exquisite liquid has been meticulously crafted using fruit and spices, then matured in Pedro Ximénez sherry seasoned casks to create a truly luxurious experience for the senses. With its rich amber color and complex flavor profile, this whiskey offers notes of dried fruit and vanilla with hints of cinnamon and nutmeg on the palate. Its finish is long-lasting and satisfying, leaving you wanting more with each sip. A true connoisseur's choice, Redbreast PX is sure to impress even the most discerning palates with its unique blend of flavors and aromas that are sure to delight from start to finish
Redbreast PX offers a rich and fruity taste with hints of spices, making it an excellent choice for those who enjoy bold flavors
With its complex blend of fruit and spice notes, Redbreast PX is perfect for sipping on its own or as part of your favorite cocktail recipe
Whether you're a whiskey connoisseur or just looking to try something new, Redbreast PX delivers an unforgettable drinking experience that you won't want to miss out on
Redbreast PX Edition is described as having aromas of "fruit, spices and toasted nuts combined with the subtly sweet aroma of Pedro Ximénez sherry seasoned casks." On the palate, it's "zesty" and "syrupy" with "the perfect balance of fruit, spice and toasted notes." It concludes with a "satisfyingly rich and long, sweet" finish.