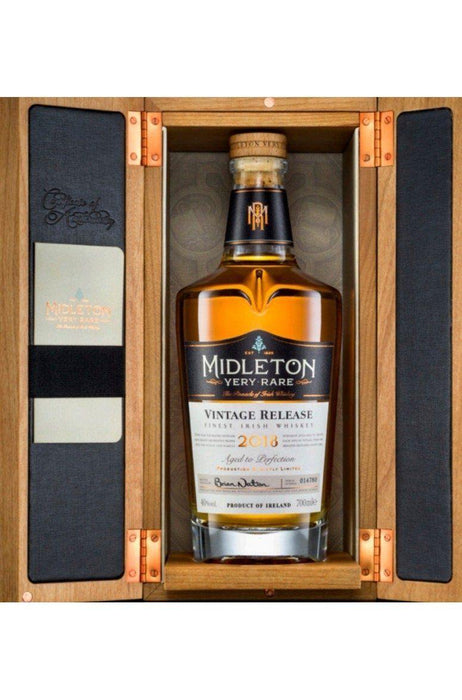 Midleton Very Rare 2018
Original price
$867.00
-
Original price
$867.00
Experience the pinnacle of Irish whiskey craftsmanship with Midleton Very Rare 2018, handcrafted by Master Distiller Brian Nation in a small batch blend sure to delight.
Midleton Very Rare 2018 is an exceptional small batch blend, crafted by Brian Nation himself. The master distiller handpicked only the finest and rarest whiskies to create this exclusive spirit that embodies the elegance and complexity of Irish whiskey making. With its distinct aroma and flavor notes of vanilla, honey, toasted oak, and rich fruitiness, Midleton Very Rare 2018 is truly a masterpiece worth savoring. Whether you're a connoisseur or simply looking for a luxurious indulgence, indulge in the unparalleled taste that only comes from one of Ireland's most celebrated distilleries with Midleton Very Rare 2018
Indulge in the exquisite taste of Midleton Very Rare 2018, a small batch blend crafted by Master Distiller Brian Nation
Elevate your drinking experience with this premium whiskey that boasts exceptional complexity and depth of flavor
Enjoy the exclusive opportunity to savor one of only a limited number of bottles produced each year
Impress your guests or gift it to someone special
Midleton Very Rare 2018 makes for an unforgettable addition to any collection or occasion
Midleton Very Rare 2018 bottling is the 35th edition of Midleton Very Rare, selected by master distiller, Brian Nation. The flagship blend from Ireland's biggest distillery (home of Jameson), it is a small batch blend released annually, generally to universal acclaim.