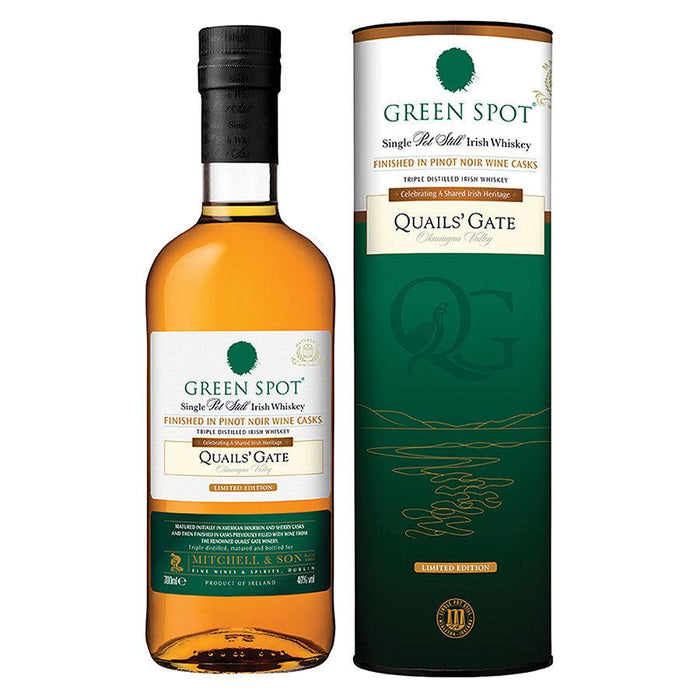 Green Spot Quail's Gate
Original price
$170.00
-
Original price
$170.00
Indulge in a taste of Irelands finest with Green Spot Quails Gate - the perfect blend of Irish Single Pot Still and the rich flavors of Quails Gate vineyard. Dont miss out on this truly limited edition experience.
Introducing the Green Spot Quail's Gate, a limited edition single pot still whiskey meticulously crafted with the finest grains and distilled by Irish experts. A unique blend of flavors that combines the richness of Irish whiskey with the exquisite taste of Quails Gate Vineyard. It is a true testament to our commitment to excellence in crafting only exceptional quality products for our clients. The intricate balance between rich spices, intense fruity notes, and subtle vanilla undertones makes it an indulgence you won't want to miss out on. Limited production ensures exclusivity so get your hands on this coveted gem before it's all gone!
Enjoy a premium blend crafted from handselected barrels aged at the Quails Gate vineyard
Savor every sip of this limited edition release, perfect for collectors and connoisseurs alike
Experience the smooth and complex flavors that make Green Spot Quail's Gate an exceptional addition to any whiskey collection
Green Spot Quail's Gate is an Irish Single Pot Still aged in Bourbon and Sherry casks before being finished in Pinot Noir casks from the Quail's Gate vineyard. Its tasting is woody, spicy and marked by Pinot Noir with flavours of ripe red fruits, vanilla and red wine. Limited edition.