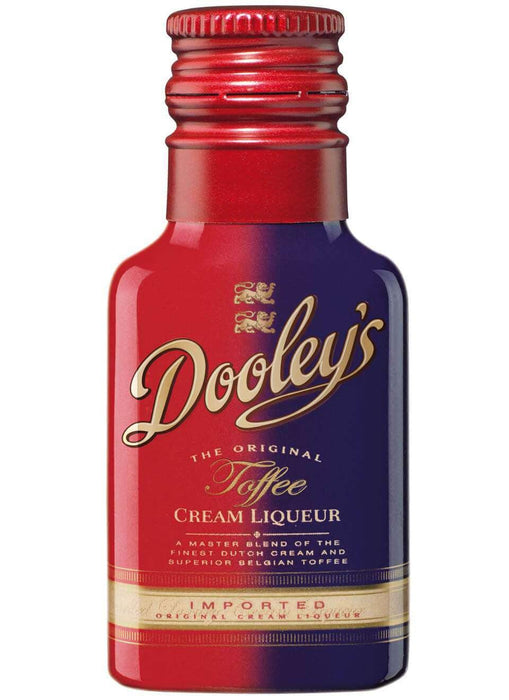 Dooley's Toffee Cream Liqueur 2cl Mini
Original price
$3.00
-
Original price
$3.00
Indulge in the decadent taste of Dooleys Toffee Cream Liqueur - an award-winning blend that adds a touch of luxury to any occasion. Perfect as a cocktail base or simply enjoyed on its own, this 2cl mini is your ticket to sweet and smooth sipping satisfaction
Indulge in the smooth, velvety goodness of Dooley's Toffee Cream Liqueur - the award-winning cream liqueur that will elevate your drinking experience. With its delectable blend of rich toffee and creamy milk, this 2cl mini bottle is perfect for a solo indulgence or as the ultimate cocktail base. Whether you sip it straight or mix it with your favorite drink, Dooley's Toffee Cream Liqueur promises to delight and satisfy even the most discerning palate. Savor every delicious sip and bask in its decadent flavor notes that linger on your taste buds long after you've finished. Try it today and discover why Dooley's Toffee Cream Liqueur is truly one-of-a-kind!
Indulge in the awardwinning taste of Dooley's Toffee Cream Liqueur 2cl Mini
Create delicious cocktails with this versatile and smooth blend as a base
Savor the rich toffee flavor and creamy texture of this luxurious liqueur
Enjoy the convenience of a mini bottle, perfect for onthego or gifting opportunities
An award-winning cream liqueur, that is a blend of Belgian toffee, Dutch cream and vodka. A fantastic cocktail base.