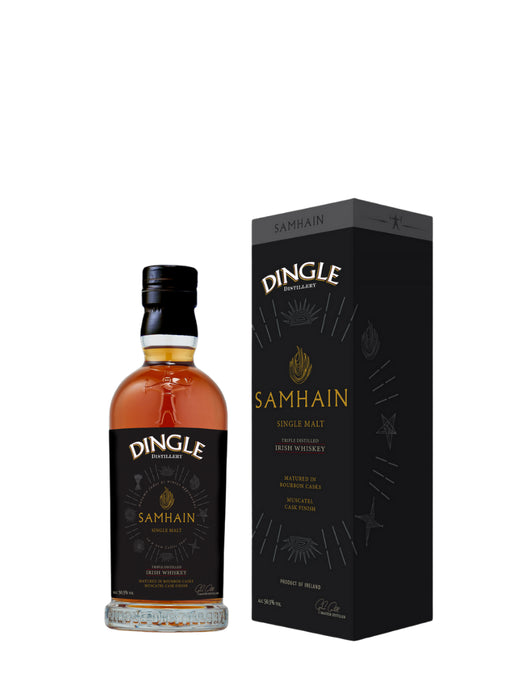 Dingle Samhain Single Malt 5cl Sample
Sold out
Original price
$9.00
-
Original price
$9.00
Indulge in the rich and rare flavors of Dingle Samhain Single Malt Whiskey, a limited-edition gem thats sure to impress any Irish whiskey lover. Sample it now with our 5cl bottle!
Experience the exquisite taste of Dingle Samhain Single Malt Whiskey with our limited-edition 5cl sample. Crafted by passionate Irish whiskey lovers, this single malt whiskey boasts a unique blend of flavors that perfectly capture the essence of Ireland's rugged terrain and rich culture. Known for its smoothness and complexity, each sip is like taking a journey through an enchanting land filled with rolling hills and ancient castles. So take a chance on something new and indulge in the captivating aroma and distinct character of Dingle Samhain Single Malt Whiskey today!
Limitededition whiskey perfect for collectors or as a gift for Irish whiskey lovers
Taste the exceptional quality and craftsmanship that goes into every bottle of Dingle Samhain Single Malt Whiskey
Enjoy a small taste of luxury with this premium Irish whiskey, handcrafted in small batches to ensure its distinct character and flavor profile
This is a 5cl sample filled from original bottle.
Dingle Samhain Single Malt Whiskey, the first release in a brand-new series of limited-edition whiskeys in their Wheel of the Year series. Distilled, matured, and bottled at the Dingle Distillery.
Marking the beginning of winter and the Celtic new year, Samhain coincides with the first release from Dingle Distillery's new Wheel of The Year series. The Dingle Samhain Single Malt Whiskey has matured in first fill bourbon casks before a long finish (2 years) in first fill Muscatel casks and bottled at 50.5% ABV. 
Irish whiskey lovers will be in for a treat with a highly coveted limited amount due to be available within the Irish market.  
 Limit one bottle per customer