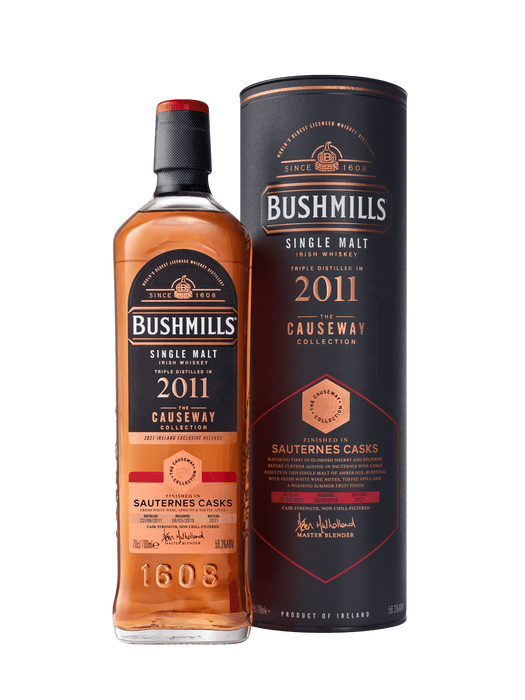 Bushmills 2011 Sauternes Cask - 5cl Sample
Original price
$11.00
-
Original price
$11.00
This is a 5cl smple dram filled inhouse for an original bottle
2011 SAUTERNES CASK
FORGED
The 2011 Sauternes Cask is a limited edition rare cask finished, cask strength (56.3% ABV) and non chill-filtered Irish single malt. It represents a bold new footstep for Bushmills, one that not only honours the giants and generations before us but also the incomparable natural landscape in which it's forged.
FINISHED
After maturing for over seven years in oloroso sherry butts and bourbon barrels, this exceptional whiskey was finished in rare Sauternes wine casks. The French casks that have housed this sweet white wine from the Sauternais region of Bordeaux bring an abundance of delicate summer fruit flavours and fresh grape. And where others might recask their whiskey for just six months or so, we've added deeper waves of flavour by finishing it in Sauternes wine casks for an unprecedented two years.
The years ripen those summer fruits with succulent peach and apricot flavours, and deepen the sweetness into a mouth-watering caramelised toffee apple with hints of spice and citrus.
It's a sensational whiskey that stands with the best of
Irish single malt, a giant in its own right.
TASTING NOTES
WHITE WINE, APRICOT & TOFFEE APPLE
COLOUR
Amber gold
NOSE
Delicate aromas of fresh white wine that deepen into ripe peaches and apricots with a hint of vanilla sweetness
TASTE
Our signature Bushmills sweet and spicy flavours give way to layers of vanilla and honey, followed by hints of citrus and toffee apple
FINISH
A long and warming summer fruits finish