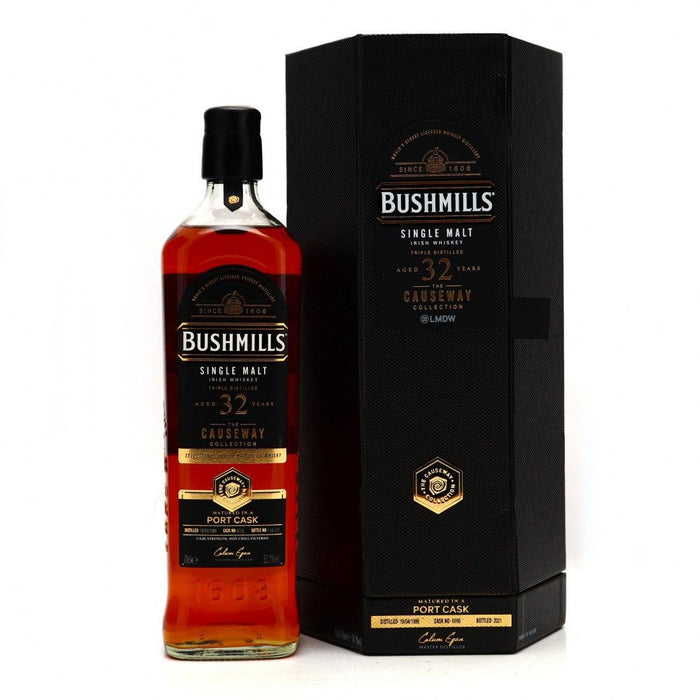 Bushmills 32YO Causeway Collection 1989 Port Cask
Save

$88.00
Save

$88.00
Original price
$1,499.00
-
Original price
$1,499.00
Limited edition of 332 bottles 53.8%

Nose : fine, complex. On the first nose, scents of vanilla rub shoulders with heady flowers (lily, broom, mimosa), aromatic plants (sage, verbena) and exotic fruits (passion, banana, pineapple) with great purity of expression. Allowed to breathe, sweet and strong spices (cinnamon, black pepper, ginger) delicately settle on the surface of the aromatic palette. Then, new fruits appear, such as candied lemons, mangoes or even white currants.
Appearance : Bright Gold
Palate : dynamic, racy. Very different from the nose, the attack on the palate provides the pleasant sensation of chewing a stick of liquorice. In the mid-palate, the white currants perceived upstream release a freshly tangy juice. Continuing, marshmallow notes intertwine with very intense floral flavors (violet, lavender). On the finish, grains of malted barley literally roll around the edge of the palate.
Overall : long, balanced. Remarkably ethereal, the start of the finish transcends even more the exotic, floral and spicy character of the aromatic and gustatory palette. Then, herbal infusions (chamomile, rosemary) profusely permeate each taste bud. Intimately linked to each other, the very end of the mouth and the retro-nasal olfaction are covered by a fine layer of salted butter caramel, thereby revealing a new facet of this extremely complex Bushmills.