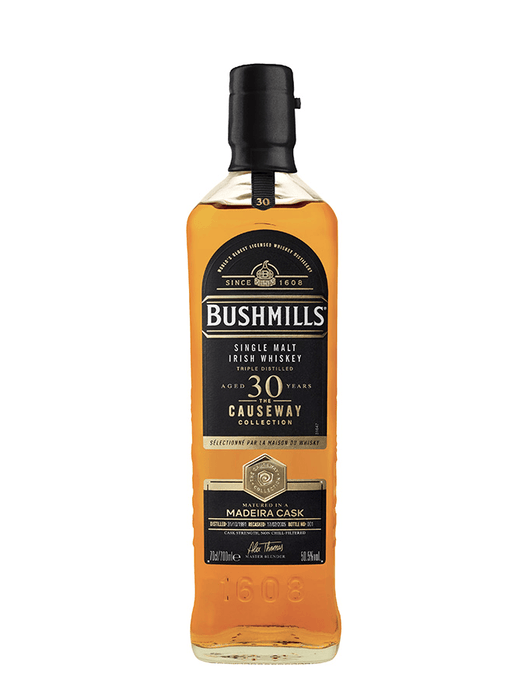 Bushmills 30YO Madeira Cask Whiskey
Original price
$1,013.00
-
Original price
$1,013.00
Nose : both ample and deep. On the first nose, admirable notes of rancio (apricot, cherry brandy, mango, blackberry) rub shoulders with bewitching scents of beeswax and lime blossom honey. Allowed to breathe, red fruits (raspberry, strawberry), noble spices (cardamom, coriander) and scents of rose petal, mauve lilac and clove provide even more nobility of expression to the aromatic palette.
Appearance : deep orange copper.
Palate : haughty, subtle. Deliciously syrupy (panettone, poppy seed cake), the attack on the palate is also spicy (cinnamon, grated ginger). On the mid-palate, notes of heather honey and flavors of cappuccino sprinkled with a few peppercorns constitute a sequence of rare indulgence. Scattered with resinous nuances (pine), slightly earthy and impregnated with autumnal scents, the very end of the mouth leads us through the undergrowth.
Overall : long, full of freshness. Remarkable in intensity and concentration, the start of the finish is marked by notes of wild strawberries, blackberries and wild blueberries. At the same time, the deeply mineral character (slate, schist) of the taste palette is remarkably highlighted. Resplendent and luminous, the aftertaste reveals numerous dried fruits (walnuts, almonds, figs). From the empty glass emerge aromas of currants, cashew nuts, roasting and incense.